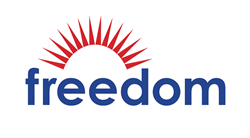 To make changes that stick, Freedom Financial Network suggests people consider recommitting to resolutions this month.
San Mateo, Calif. (PRWEB) February 07, 2017
Every year, millions of people make New Year's financial resolutions. While many assume those resolutions only "count" if they are set by Jan. 1, it's never too late to make resolutions stick, says Kevin Gallegos, vice president of Phoenix operations for Freedom Financial Network (FFN).
"By February, most people have received their first paychecks for the year, so it is an excellent time to refresh your budget," says Gallegos. "Holiday credit card bills that are rolling in now can provide motivation to make a difference in your financial well-being, too."
Financial resolutions rank especially popular this year. An analysis of Google searches indicates that 17 percent more people are making financially oriented resolutions for 2017 compared to 2016. "We're not exactly sure why that number has increased so much, although the post-election environment may be inspiring people to revisit their finances, get out of debt and take control of their money," Gallegos says.
To make changes that stick, Freedom Financial Network suggests people consider recommitting to these resolutions this month:
1. Obtain credit reports. Individuals should check their credit reports at least once a year. "It's surprising how many people don't get around to it," Gallegos says. Visit annualcreditreport.com to get a free copy of credit reports from Experian, Equifax and TransUnion, the three major credit reporting agencies. Review reports carefully, and follow the directions on the website to correct any errors.
2. Put financial goals in numbers. The best way to achieve any goal is to establish a clear marker of success. "If you owe $20,000 in debt, you probably won't be able to pay it all back in six months," Gallegos says. Instead, he suggests, take a look at your budget and decide how much you can pay each month. Determine to repay a set percent of the debt this year, or add one or two months' savings to an emergency fund. As an added bonus, achieving a goal of reducing debt will net a better result on next year's credit report.
3. Monitor and visualize progress. A study by the Kellogg School of Management at Northwestern University found that participants in a debt management program experienced more success when they could visualize their progress. For this reason, the "snowball" method of repaying debts – paying off their debt with the lowest total balance first – works well for many people. Vow to use a smartphone to download an app that will provide a visual of progress toward paying off debts. Alternatively, use a spreadsheet or even a hand-drawn chart on the refrigerator door (think of the "thermometer" charts fundraisers use) to gauge progress.
4. Lower interest rates. People who are facing debt on a credit card with a high interest rate may have the option of transferring the debt to a card with a lower rate. Do not forget to consider balance transfer fees, which usually range between 2 and 5 percent of the amount transferred. "Be sure you can pay off the amount you transfer by the end of the promotional period," Gallegos warns. "Otherwise, you may be liable to pay the full amount of interest on the entire balance." Another option is a www,freedomplus.com [personal loan] to consolidate debt. These loans can be especially helpful when credit scores do not reflect repayment capabilities. Independent lenders, such as Freedom Financial Network, with its FreedomPlus product, use different criteria than a traditional bank or credit union to evaluate how likely a person is to repay a loan.
5. Build an emergency fund that works. With political change afoot, and the Federal Reserve raising its key interest rate in December for the first time in years, people may feel uneasy about their finances. "While we're not seeing convincing signs of a potential downturn, it has been several years since the Great Recession ended. Historically, downturns happen cyclically, so it's smart to be prepared," Gallegos adds. A 2016 survey about financial resolutions found that more than 70 percent of people who are focusing on short-term savings plan to put more into their emergency funds. Freedom Financial Network recommends automating savings to see results. Have savings transferred electronically every month directly to a savings account, or take advantage of one of the apps that helps people save their virtual "spare change," Gallegos suggests. "Be cautious, though, of apps that charge fees – you could wind up saving much less than you intended."
For help understanding and creating a budget to get out of debt, Freedom Financial Network provides a free budget guide.
Freedom Financial Network (http://www.freedomfinancialnetwork.com)
Freedom Financial Network, LLC (FFN), provides comprehensive consumer credit advocacy services. Through the FFN family of companies – Freedom Debt Relief, Freedom Financial Asset Management and Bills.com – FFN works as an independent advocate to provide comprehensive financial solutions, including debt consolidation and debt negotiation (settlement) services for consumers struggling with their finances. The company, which has resolved more than $5 billion in debt and assisted more than 300,000 clients since 2002, is an accredited member of the American Fair Credit Council and a platinum member of the International Association of Professional Debt Arbitrators.
Based in San Mateo, California, FFN also operates an office in Tempe, Arizona. The company employs more than 1,200 people and was voted one of the best places to work in the San Francisco Bay area in 2008, 2009, 2012, 2013 and 2014, and in the Phoenix area in 2008, 2009, 2010, 2012, 2013, 2014, 2015 and 2016. FFN's founders are recipients of the Northern California Ernst & Young Entrepreneur of the Year Award.
(end)