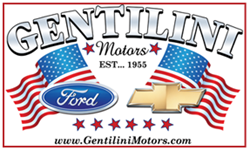 Woodbine, NJ (PRWEB) February 07, 2017
Gentilini Family Ford, part of the Gentilini Motors network of dealerships in Woodbine, Cape May County, NJ, is happy to announce the return of the President's Day Sales Event. The promotion will last for the entire month of February, and it's just in time for incoming tax returns. Individuals looking for vehicles from one of the most respected manufacturers in the world, the Ford Motor Company, can find great deals on brand new and certified pre-owned vehicles.
The President's Day Sales Event will include a number of different deals priced to sell or lease. Brand new Fiesta, Focus, Fusion, and Escape models can be leased for under $200 a month. Select Ford models can be purchased with 0% financing, meaning a buyer can walk out with a brand new Ford without paying any interest over the lifetime of a loan. There will also be deals on Quality Certified Pre-Owned vehicles, 2015 left-overs, 2016 models, and more.
Gentilini Family Ford is owned by a patriotic American family that is proud of its community. It was founded over 60 years ago, and it still maintains the same dedication to affordability and excellent customer services that it did the day its doors were opened for the first time. As a nation honors the leaders who shaped our country, Gentilini Family Ford is proud to offer these amazing deals on vehicles from a great American manufacturer.
Visit the showroom today to see what deals are available all throughout the month of February.
About Gentilini Motors:
The Gentilini Motors Organization is a family-owned network of dealerships that has served motorists since 1955. Located in Woodbine, Cape May County, NJ, Gentilini Motors is known for providing the highest level of customer service, receiving multiple industry awards for its family-style service. Gentilini Motors' inventory includes models from Ford, Chevrolet, GMC, Rocky Ridge, and more. Visit http://www.gentilinimotors.com to learn more.