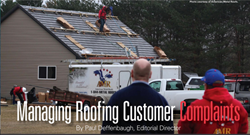 The function of the customer concierge, is to coordinate between the customer and the installer. Not just to review contracts, but to have a meeting of the minds. - Frank Farmer, Owner- American Metal Roofs
Flint, Michigan (PRWEB) February 07, 2017
American Metal Roofs was featured in the February 2017 edition of Metal Construction News. This business feature, titled "Managing Roofing Customer Complaints", offers reader advice and real-world solutions for setting customer expectations, communicating effectively, and soliciting customer feedback, all salient points in keeping customer complaints low and satisfaction high.
The article, written by Editorial Director Paul Deffenbaugh, features American Metal Roofing of Flint, Michigan as a leader in the industry. Frank Farmer was interviewed to discuss methods that make his company one of the highest rated businesses for customer satisfaction in the industry.
Farmer has established procedures for all elements of the sales process, including the development of scripts for initial phone contacts, in-home sales calls, hand-off to production, and the follow-up surveys. He also points out that setting proper expectations is critical, even as early as the development of ads within the marketing campaign.
Farmer takes customer satisfaction seriously and goes one step further than most roofing companies. To enhance communication, he employs a customer concierge to be the point person for the customer.
"The function of the customer concierge, is to coordinate between the customer and the installer. Not just to review contracts, but to have a meeting of the minds."
-Frank Farmer, Founder- American Metal Roofs
Deffenbaugh's article also showcases how industry leaders in the roofing business, including American Metal Roofing, uses third party companies like Guild Quality to conduct customer surveys. Receiving customer feedback helps identify common complaints that can be addressed and discussed with the entire staff.
Read the entire business feature in Metal Construction News here.
http://www.metalconstructionnews.com/articles/magazine-features/managing-roofing-customer-complaints.aspx
About American Metal Roofs:
American Metal Roofs provides residential and commercial metal roofing products and services for the Michigan Lower Peninsula. American Metal Roofs specializes in installing metal roofing from the leading manufacturers of permanent metal roofing. http://www.americanmetalroofs.com