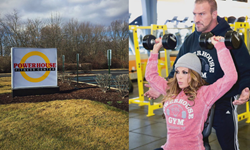 The gym is amazing, the vibe and energy when you walk in is incredible!
Whippany, N.J. (PRWEB) February 08, 2017
The Real Housewife of New Jersey star, Dolores Catania is getting ready to kick off the Grand Opening of her second Powerhouse Fitness Center gym in Whippany, N.J., this upcoming Saturday, February 11th. Friends and family are encouraged to join in the festivities and take advantage of free guest passes, membership specials and rates.
The celebration will kick off at 10am with a ribbon cutting ceremony. In addition, the gym will be hosting vendors including, Lifestyle Nutrition, Maximum Health & Wellness, Xcel Precision Training, and many more. There will also be a Kid's Party in the gym's daycare.
"Powerhouse Whippany is my newest project that I'm really excited to share with everyone. The gym is amazing, the vibe and energy when you walk in is incredible! But what really makes it special are our members, it already feels like a family." said co-owner Dolores Catania.
Powerhouse Fitness Center of Whippany conveniently located on Route 10 West, is a family owned and operated gym with friendly and reliable staff. Powerhouse is a full amenity facility with state of the art equipment and brand new free weights and cardio deck.
Powerhouse offers classes from aerobics to yoga to Xcel Precision Training and has a daycare center on site to make it easy for parents to come with kids. Powerhouse offers tanning and their delicious juice bar makes it easy to hydrate after a workout. Maximum Health and Wellness is conveniently located in the gym, and offers everything from chiropractic to acupuncture to massage therapy. With tons of parking and luxurious locker rooms, the Powerhouse Fitness Center of Whippany is a perfect addition to the community.
The Powerhouse Gym name and brand has been one of the top leaders in the fitness industry for over 35 years. With 300 licensees in 39 states, Powerhouse has continued to steadily gain global attention by expanding into 17 different countries worldwide.