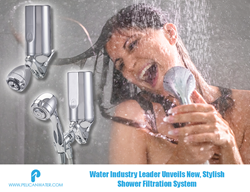 DeLand, Florida (PRWEB) February 07, 2017
Pelican Water Systems, the market leader in affordable and environmentally friendly water filtration systems, unveils its latest comprehensive water filtration system: a stylish and efficient shower filter that lasts 50% longer than the competition.
This state-of-the-art is the first of its kind to come in a sleek, attractive all-chrome finish. Designed with the modern home in mind, a chrome shower filter complements the existing décor of your bathroom, boldly advancing your bathroom design into the 21st century. Chrome bathroom accessories are rapidly becoming the best-selling on the market, and with this powerful shower filter you can provide your family with clean, rejuvenating water for every shower while transforming your showerhead into an integral part of your interior design and color scheme. Chrome allows you to stay ahead of the trends with a timeless and sophisticated look.
The patented chrome design maintains optimal shower pressure, and the scent bar incorporates relaxing aromatherapy into every shower. The filter itself reduces unpleasant odors from your water to deliver a spa-like experience during each use. Protect your family from the long-term damaging effects of unwanted chemicals, including Chlorine. The chrome shower filter removes these contaminants to soften your skin and hair, reduce skin dryness and flakiness, and limit the fading of color-treated hair.
Installation is a breeze, and the Quick Connect feature makes switching out replacement filters simple and straightforward. Pelican Water's new shower filter system boasts a filter that lasts for 15,000 gallons, which is the equivalent of 750 ten-minute showers.
About Pelican Water Systems
PelicanWater.com is the official, factory-direct retail website for Pelican Water Systems, providing professional knowledge and leading technologies in whole house water filtration, countertop water filtration systems, UV bacteria disinfection systems, and salt-free water softening and conditioning systems. Pelican Water products use cutting-edge technology to enable customers to go green by eliminating wasteful and harmful salt brine discharge that is polluting our valuable fresh water resources. Pelican Water is also proud to offer under-counter reverse osmosis systems that are small enough for practical use in RVs and marine vessels. Pelican Water continues to be the global market leader in salt-free water softening systems. For more information about Pelican Water Systems, visit PelicanWater.com.