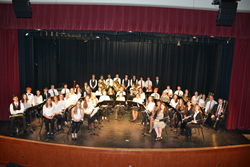 The students grew as musicians and as individuals during this very arduous audition process.
Shenandoah Junction, W.Va. (PRWEB) February 07, 2017
The Jefferson High School Symphonic Band has been named the 2017 High School Honor Concert Band by the West Virginia Music Educators Association (WVMEA).
The Symphonic Band will perform at the West Virginia Music Educators Conference on March 3 at the Charleston Civic Center in Charleston, W.Va.
JP Lynch, Jefferson High School band director said, "I am so proud of my students. The students grew as musicians and as individuals during this very arduous audition process. That's really why we submit a recording every two years. Being named the West Virginia High School Honor Concert Band is just icing on the cake."
One West Virginia High School Concert Band is selected to perform at the West Virginia Music Educators Conference. Since 2011, the JHS Symphonic Band has been selected for this honor on four separate occasions.
"Jefferson County Schools is extremely proud of Jefferson High School's band students. Celebrating the arts is an integral part of a robust educational program," said JCS Superintendent Bondy Shay Gibson.
The public is invited to listen to the topnotch group during their spring concert on Tuesday, April 11 at 7 p.m. The concert will be held in the Jefferson High School auditorium.
About WVMEA
WVMEA is a professional organization designed to engage and support music teachers in West Virginia. The membership spans from those teaching pre-school to college.
The WVMEA aims to strengthen and advance the study of music education throughout the state by providing the latest music education resources. WVMEA provides leadership models in professional growth for teachers and highlights effective techniques, resources and materials that offer special opportunities for musical growth to school students.
About Jefferson County Schools
The mission of Jefferson County Schools is: "Through excellence in teaching and learning, Jefferson County Schools will ensure that all students value themselves and others, contribute to their community and succeed in a global society." With a total of 17 schools, the district employs more than 1,100 staff members and enrolls more than 9,000 students. The county is home to eleven elementary schools, four middle schools and two high schools. Since 2000, Jefferson County has been one of the fastest growing localities in West Virginia, experiencing more than 30 percent growth in its population. As one of the top ten employers in Jefferson County, the district annually receives teacher grants for programs that contribute to hands-on learning, preparing students for the 21st century workplace. To learn more about Jefferson County Schools, visit boe.jeff.k12.wv.us.
Media Contact:
Meghan Metzner
Meghan(at)platinumpr(dot)com
304-876-8321