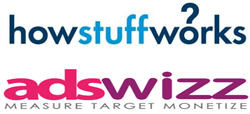 ATLANTA, GA (PRWEB) February 08, 2017
HowStuffWorks, a preeminent publisher of informative podcast, video and editorial content, today announced that it will bring dynamic advertising to its expansive podcast library, doubling new advertising inventory for its existing and future portfolio of leading brand partners. Powered by AdsWizz, the partnership is intended to strengthen the value of podcast advertising for brands, while maintaining an inherently intimate listening experience.
HowStuffWorks' 12 podcast brands have amassed over 650 million downloads in the last eight years, and garner over 29 million downloads every month. With an evergreen podcast library of more than 6,000 episodes totaling over 3,000 hours of listening time, combined with dynamic ad insertion technology, HowStuffWorks is now uniquely positioned to provide a new level of scale to brands seeking to enhance their digital advertising across all platforms. What's more, this technology partnership reinforces HowStuffWorks' commitment to curated, live-read ad integrations that foster a personal connection with listeners.
"The podcast industry is going through a transformative moment in time," said Jason Hoch, Chief Content Officer at HowStuffWorks. "We now have the opportunity to provide the truly sophisticated ad serving, targeting and reporting experience that brands have come to expect on any digital platform. With this partnership, we are able to merge best-in-class advertising technology with curated ad creative to provide our brand partners and fanbases with highly personal listening experiences that encompass our entire library of shows."
Podcasts create a direct line into listeners' ears, resulting in a one-to-one connection between host and fan. AdsWizz has built a suite of solutions dedicated to bringing advanced advertising capabilities and extending this one-to-one experience by creating and implementing unique listening experiences informed by listener information like location, content preferences or user profile. AdsWizz utilizes dynamic ad insertion in podcasts, user-level targeting, advanced reporting, unique formats, and a dedicated podcast marketplace to provide a differentiated and enhanced experience to advertisers and sponsors.
"Podcasts are profoundly changing the way spoken word content is being consumed and HowStuffWorks is at the forefront of this transformation," said Alexis van de Wyer, CEO at AdsWizz. "Direct response advertising has been very successful in the last few years, but we aim to expand that opportunity further and we're thrilled to partner with HowStuffWorks to bring advanced targeting, reporting and advertising format capabilities to brands, publishers and consumers alike."
The podcasting industry has experienced explosive growth in the last two years, presenting new opportunities and challenges when it comes to analytics and monetization. Since its founding in 1998, HowStuffWorks has worked with brands across its editorial, video and audio content. Drawing on its near-twenty years of experience developing loyal fan bases and all-encompassing advertising strategies, HowStuffWorks is poised to solve many of the industry's pain points while simultaneously offering immense scalability to brand partners seeking to enhance their digital advertising presence.
###
About HowStuffWorks
Founded in 1998, HowStuffWorks is a preeminent publisher of informative video, podcast and editorial content. The parent company of twelve leading brands including Stuff You Should Know, Stuff You Missed in History Class, and Stuff Mom Never Told You, HowStuffWorks' writers, editors, podcasters and video hosts share all the things they are most excited to learn about with highly-engaged fan-bases across multiple platforms, devices and distribution partners. With an expansive and award winning collection of audio podcasts and video series, HowStuffWorks reaches a network of nearly 30 million unique visitors a month, and is #3 in global downloads, with millions of downloads across the Stuff Family sites. For more information, please visit http://www.howstuffworks.com.
About AdsWizz
AdsWizz is the leading technology provider of advertising solutions for the digital audio industry. The company seamlessly connects the digital audio advertising ecosystem with its suite of platforms and software solutions. AdsWizz provides leading audio publishers with its advanced server-side and client-side insertion software, and with its audio-centric adserving and supply-side platforms. AdsWizz also operates the largest premium audio marketplace and provides ad networks and programmatic trading desks with solutions to effectively trade online audio inventory. AdsWizz powers the world's leading digital ad-sale houses, advertisers, and audio publishers. The company is based in San Mateo, California with teams in Europe and Asia. For more information, visit us at http://www.AdsWizz.com/.