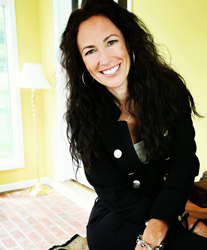 Whitehouse Station, New Jersey (PRWEB) February 08, 2017
"The Happy Healthy Home" highlights a broad range of vital home health and safety tips to guide homeowners on how to address environmental issues, from the presence of mold to hidden airborne VOCs. The contribution is the most recent piece in Blazovsky's portfolio which educates the public about health and wellness.
Blazovsky is a nationally recognized media personality who provides her extensive expertise to outlets seeking to inform the public about how to improve the quality of their home environment and about the chemicals and toxins that may be linked asthma and allergens from contaminants and chemicals - right under the noses of the homeowners. Media have consulted with Blazovsky to present topics in easy to understand language, often giving advice on how to use everyday household items to clean and improve air quality.
Over more than 17 years, Blazovsky has compiled an impressive combination of credentials related to mold, indoor air quality, healthy homes, and building healthy and green. Blazovsky leverages her knowledge and experience as a council-certified Mold Remediator (CMR) and Indoor Environmentalist (CIE), in conjunction with education in sustainable design from Boston Architectural College, to uncover underlying problems arising in every type of situation and in all types of dwellings. She is a National Environmental Health Association (NEHA) Healthy Homes Specialist (HHS) and a member of the ACAC, NEHA, IAQA, and serves on the national IAQA Public Education Subcommittee.
To further strengthen her singular expertise and her ability to serve her clients' and the public's needs, Blazovsky is currently pursuing graduate studies in public health at the Keck School of Medicine at the University of Southern California.
Through her company, My Healthy Home(R), Blazovsky presents a range of test kits that make it simple for homeowners to perform their own environmental testing and, armed with a personal consultation from Blazovsky, become better equipped to handle or fix indoor air quality problems.
Ideas offered to the media preparing stories for homeowners trying to create healthier living spaces include:

She recommends avoiding scented laundry products that emit chemicals. Studies show that captured gases from dryer vents where occupants used traditional scented laundry detergents contained carcinogens. Try using unscented and vegetable based detergents.
Have furnaces, hot water heater, and appliances serviced every year. If your furnace is not burning correctly, it may cause indoor air pollution and a dangerous carbon monoxide problem.
Keep relative humidity in the home at 30-50%. Too much moisture will give food sources to mold, dust mites and bugs. Too little can dry out nasal passages making you more susceptible to colds and viruses.
Check radon every 3 years and especially if you made any changes to your home like new windows, siding, or doors.
National healthy home expert Caroline Blazovsky educates the public and explains how to test for contaminants, mold, allergens and chemicals to improve indoor air and water quality. She can be hired as a consultant by physicians or homeowners looking to increase health and wellness by improving living spaces. Her company, My Healthy Home (R), provides education, consultation, testing and home evaluations nationally.
"The Happy Healthy Home" book is available on LuLu.com and Amazon.com in print version and downloadable for free on Filterbuy.com
Media: To arrange to have Caroline Blazovsky as a media guest to discuss the book or other home or wellness topics, or to be considered for a review copy, send inquiries to scott(at)healthyhomeexpert(dot)com or call 866-743-8563.
Contact:
Scott Dessel PR and Media Manager
My Healthy Home
PO BOX 674
Whitehouse Station, NJ 08889
Phone: 866-743-8563
Fax: 866-743-8563
Email: scott(at)healthyhomexpert(dot)com
http://www.healthyhomeexpert.com