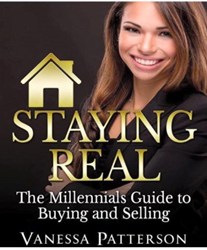 I wanted to inform my generation about the benefits of owning a home and how to achieve it.
Washington DC (PRWEB) February 07, 2017
Vanessa Patterson, a Berkshire Hathaway Home Services PenFed Realty sales professional, has a lot to share with millennials about buying and selling a home. In fact, she has written a book just for this young adult audience, "STAYING REAL: The Millennials Guide to Buying and Selling," due to be published this month by Jackson Publishing.
"Despite the fact that 71% of millennials want to own a home, according to Consumer Reports National Research Center, as a real estate agent I saw a disparity between wanting and doing. My peers were delaying home ownership due to high student loan debt, a tight credit market, and rising housing prices," said Patterson.
"I wanted to inform my generation about the benefits of owning a home and how to achieve it," she added.
According to Patterson, although 18 to 34-year-olds were born with technology devices in their hands and are very savvy about how to look for homes in desired neighborhoods on their mobiles, they are not aware of the entire buying process: from financing, to writing an offer to closing cost fees.
Additionally, Patterson was recently featured on a HGTV's "House Hunters" episode, helping her client, Krysten Mesner, find and buy a house in the D.C. Metro area. It was Patterson's tenacity that got her the opportunity to be featured on the show.
"I was persistently reaching out to the show's producer, since it's the network's most popular series. When they decided to do an episode in this area, the producer called me," she said.
The episode follows twenty something Mesner as she searched the D.C. region along with her agent, Patterson, and includes Liz Love, who was helping Mesner house hunt and provide advice. Here's a video clip of the "House Hunters" episode: http://bit.ly/2dGUoWO
"Krysten and I grew up in Hagerstown, Maryland, and became friends. I helped her buy a house in Old Town Alexandria, Virginia." smiled Patterson. She lives in the Crestwood neighborhood in Northwest D.C.
Patterson bases her business in the Dupont office with her teammate Donna DeLuze of the NetWorth Properties Team. Patterson can be reached at Vanessa(dot)Patterson(at)PenFedRealty(dot)com.
About Berkshire Hathaway HomeServices PenFed Realty
Berkshire Hathaway HomeServices PenFed Realty is a full-service real estate company with annual sales volume of $3.9 billion with 1,800 sales agents and 50+ offices providing complete real estate services nationwide. PenFed Realty is a wholly-owned subsidiary of PenFed Credit Union (PenFed). PenFed is a financial institution with $21 billion in assets and more than 1.5 million members. PenFed Realty is also a member of the Berkshire Hathaway HomeServices brokerage network, operated by HSF Affiliates LLC. Visit PenFedRealty.com. Equal Opportunity Employer: m/f/v/d. Equal Housing Opportunity.