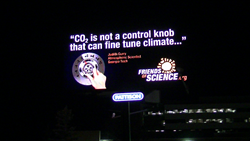 "In our opinion, this action by the registered charity, West Coast Environmental Law, simply creates more unwarranted incitement against an essential energy source.
Calgary, Alberta, Canada (PRWEB) February 08, 2017
Friends of Science Society is calling on West Coast Environmental Law (WCEL) of British Columbia to 'walk-the-talk' on climate change and abandon their use of fossil fuels today instead going ahead with their campaign to "make Big Oil pay" as posted on their website Jan. 25, 2017. As reported in the Huffington Post Feb. 6, 2017, the province of British Columbia is presently experiencing one of the heaviest snowfalls of the past many decades – managing only thanks to fossil fuel powered road-clearing and emergency equipment and home heating.
"Far from oil and gas industries being the 'nuisance' or 'climate change' threat as WCEL claims, in today's weather conditions, oil and gas are the only saving grace," says Michelle Stirling, Communications Manager for Friends of Science. "If oil and gas are such a nuisance, WCEL and friends should stop using them, right now."
Despite a large hydro supply, Energy BC reports that British Columbia heated 59% of homes with natural gas and collectively 8% oil or wood (2009).
Canada has recently approved two pipeline projects going from Alberta – as reported by The Guardian, Nov. 29, 2016 - one of them a hotly contested expansion of an existing pipeline called the Kinder Morgan TransMountain Expansion from oil reserves in Alberta to British Columbia's Vancouver port. Researcher Vivian Krause has tracked the offshore cash funding Canadian pipeline blockades, as reported in the Financial Post, Oct. 3, 2016.
West Coast Environmental Law and some 50-odd agencies have signed on to a proposed anti-oil action against fossil fuel companies claiming that "Big Oil Owes BC Communities for Climate Costs" on their website.
Friends of Science Society asks British Colombian residents to examine the facts.
"British Columbia features Vancouver Port handling cargo ships carrying $200 billion goods in trade with 170 trading economies. According to BC Ferries web-site, Vancouver Island and the Gulf Island chain is connected by "year-round vehicle and passenger service on 24 routes to 47 terminals, with a fleet of 34 vessels " every ferry operates on fossil fuels. Vancouver Airport welcomes some 22.3 million visitors a year. And on Vancouver Island, Nanaimo port treats some 5.5 million tourists to ocean-going adventures annually," says Michelle Stirling. "Most of the 190 communities in BC would not exist without Big Oil."
As Friends of Science contributor and Ottawa energy economist/consultant Robert Lyman explains, that the International Energy Agency report of 2016 shows that some 81% of energy in the world comes from fossil fuels.
Stirling points to a blog post by chemist Blair King who writes under the name of "A Chemist from Langley" who explains in "A Thought Experiment" of August 3, 2016, how the sudden loss of fossil fuels to the mainland, so desired by the 'green' anti-oil activists, would result in a "Zombie Apocalypse" of social anarchy and chaos within days.
About
Friends of Science Society is an independent group of earth, atmospheric and solar scientists, engineers, and citizens.who are celebrating its 15th year of offering climate science insights. After a thorough review of a broad spectrum of literature on climate change, Friends of Science Society has concluded that the sun is the main driver of climate change, not carbon dioxide (CO2).
Friends of Science Society
P.O. Box 23167, Mission P.O.
Calgary, Alberta
Canada T2S 3B1
Toll-free Telephone: 1-888-789-9597
Web: friendsofscience.org
E-mail: contact(at)friendsofscience(dot)org
Web: climatechange101.ca