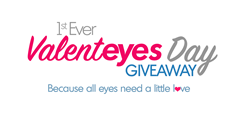 Why are we giving away free contacts? Because all eyes need a little love and even more importantly, everybody could use a little help these days.
(PRWEB) February 08, 2017
LensDirect.com, America's leading online optical retailer for more than 25 years is launching a new campaign just in time for Valentine's Day, but with a twist.
LensDirect.com is proud to announce the first ever Valenteyes Day which aims to show their customers just how much they are appreciated. The new campaign will select 100 lucky customers who have valid prescriptions to win a free month's supply of contact lenses. Moving forward, LensDirect.com plans on running this campaign every February for Valentine's Day.
"Valentine's Day is for telling people how much they matter to you, so we threw a spin on it. We're launching Valenteyes Day because our customers deserve to know just how special they are to us," said Ryan Alovis, CEO of LensDirect.com. "Why are we giving away free contacts? Because all eyes need a little love and even more importantly, everybody could use a little help these days."
Alovis noted that the concept for Valenteyes Day was created during a weekly Customer Happiness meeting to address how to further LensDirect.com's strategy of maintaining the highest level of customer satisfaction. The focus of this meeting was to find new ways of interacting with the customer besides the traditional campaign built around coupons or discount codes. LensDirect.com already uses its love of its customers to power its business model, and they do so by being the only online optical provider to offer each customer a Dedicated Account Representative to handle their business in a one-to-one relationship. It is this dedication to excellence and personal attention that has helped LensDirect.com earn an astounding 97% approval rating among its customers. With the competition as fierce as it is in the online optical space, a company must do more than just offer competitive prices; they must keep their customers incredibly happy.
LensDirect.com has one of the most robust online catalogues of contact lens products ready to ship to their customers at a moment's notice. This type of commitment to the customer has led to more than 1000 four and five star reviews online through Trustpilot and Google Trusted Store. LensDirect.com has made customer service a priority for the simple reason that people can buy contact lenses anywhere, but at LensDirect.com, customers not only get the contacts they need, they also build valued relationships.
Additionally, LensDirect.com offers multiple payment options, including PayPal as well as a discounted subscription service called AutoRefill. The company also offers customers the convenience of a user-friendly mobile site and it now offers UPS as its premium shipping service.
For more information on LensDirect.com, visit http://www.lensdirect.com.
ABOUT LENSDIRECT.COM
LensDirect.com, the optical division of The Stella Group, is a New York-based online retailer of contact lenses, eyeglasses, and sunglasses founded in 1992. Originally created as a contact lens mail order company, it quickly evolved into one of the leading providers for contact lenses on the Internet. Their focus is simple: they aim to be "America's Optical Store."
FOR MEDIA INQUIRIES
Sabrina.Sperduto@thestellagroup.com