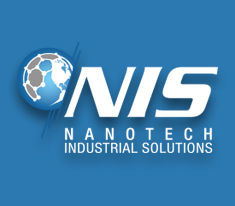 Avenel, NJ (PRWEB) February 09, 2017
"We are excited to be working with NIS because we believe their technology will help our customers' meet their performance and environmental targets given the reduction in wear and improved frictional characteristics achieved when formulating with NIS nano material," Kerry Larkin, SIP Commercial Director continues, "The NIS partnership forms an important part of our growth strategy which is focussed on providing service driven solutions to niche markets, where performance advantages are valued."
Nanotech Industrial Solutions [NIS] is the premier manufacturer of nano sized particles of Inorganic Fullerene-like Tungsten Disulfide. Using this cutting edge technology in their expanding product line of additives and greases NIS continues to define themselves as the leaders of this technology.
After meeting at an industry leading conference, SIP was impressed with the advancements being made with NIS's nano technology. "We see a strategic fit with NIS products with potential across our customer base," says Kerry Larkin, SIP Commercial Director.
As our newest distributor, SIP will be promoting the NanoLub® product line to its European market. This new relationship will be a great way to offer customers the ability to not only custom blend formulations, but to differentiate their product offering in an increasingly competitive market.
Todd Cawley, VP of Global Sales and Marketing comments, "SIP is a globally recognized company who has the ability to grow the European Market for us in ways we couldn't before. With the additional offering of our nanotechnology, their product portfolio is now one of the most comprehensive in Europe."
About SIP
Founded in 1987, SIP has established a reputation as a key supplier of speciality base oils and fluids,  suitable for use in a wide range of applications. Our ability to independently source from global manufacturers, combined with our product development programme, has enabled SIP to develop a comprehensive product portfolio of both mineral and synthetically derived basestocks which meet our customers' evolving requirements. Where required, we develop and blend customised products to meet specific needs.
 
The SIP approach to customer service is based firmly on our reputation for reliability and flexibility. Our business today is focused on adding value through long-term strategic partnerships with our customers and suppliers, built on trust to generate loyalty. We provide service driven solutions that value the performance advantages of high quality oils and the technical and regulatory expertise of our team adds significant value to the support we offer. More information is available at http://www.sip.com
About NIS
Nanotech Industrial Solutions is the manufacturer of NanoLub®, an innovative nano lubricants and additives based on fullerene-like tungsten disulfide particles. These revolutionary particles were first developed in 1992 by Prof. Reshef Tenne who was nominated for a Nobel Prize. The technology is exclusively licensed to Nanotech Industrial Solutions for commercialization Worldwide. NIS has attracted the best minds in the fields of nano technology, chemistry, and various targeted industry applications like lubricating oils, greases, coatings, metal working fluids, polymers and composites. NIS's global corporate office, commercialization R&D lab, manufacturing, blending and packaging facilities are located in Avenel, NJ. More information is available at http://nisusacorp.com/.