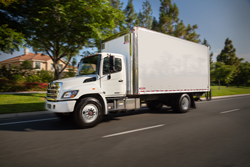 Morgantown, Pennsylvania (PRWEB) February 10, 2017
Morgan Corporation celebrates its 65th anniversary this year as North America's premier designer and producer of light- and medium-duty truck and van bodies, and has grown to be the largest on the continent.
"From our humble beginnings in 1952 as a truck repair and welding shop located just off the Pennsylvania Turnpike in Morgantown, Pennsylvania, the story of how Morgan came to be is one of the great business success stories of our time," Paul Jarossy, Director of Marketing, stated. "Since our inception, the Morgan name has been synonymous with innovative engineering, uncompromising quality and a superior customer service experience."
Recently, Morgan Corporation announced plans to open new manufacturing and service facilities in the U.S. Midwest as well as in New England in 2017 and 2018. Morgan's 12 current manufacturing and service facilities are located in strategic areas across the United States and Canada.
"The evolution of our products is evidence of our ability and commitment to meet the unique and ever-changing needs of our customers," Jarossy continued. "With the launch of new products and designs, as well as the introduction of breakthrough technologies, Morgan continues to set new standards. These standards impact the transportation industry one body at a time, while fulfilling our own vision for the future in advance of market demands."
Morgan Corporation has been the premier producer of truck and van bodies in North America for 65 years. Morgan specializes in the manufacture of Class 3 to Class 7 (GVW) box truck/straight truck bodies to serve the dry freight and refrigerated industries. Morgan produces truck bodies to accommodate cargo of every configuration — from parcel delivery to furniture movers and heavy-equipment hauling, insulated and refrigerated units, bottled gas transport, and flatbed/stake & platform bodies. In recent years, Morgan has also launched dump and service truck bodies geared towards the landscape and contractor industries. To learn more, visit http://www.morgancorp.com.