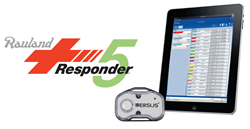 The new interface between Rauland Responder® All Touch® and Versus solutions allows hospitals to share data/information between systems for comprehensive intelligence on clinical workflow.
Mt. Prospect, Ill., Traverse City, Mich., and Dayton, Ohio (PRWEB) February 10, 2017
An industry-first bi-directional integration between nurse call and real-time locating systems (RTLS) was announced today by Rauland and Versus Technology.
The new interface between Rauland Responder® All Touch® and Versus solutions allows hospitals to share data/information between systems for comprehensive intelligence on workflow, healthcare provider status, room condition, and patient needs. It also builds on Rauland Responder's open integrations and interoperability strategy in delivering workflow and process solutions across the hospital environment.
The long-standing Rauland and Versus integration automates nurse call responses based on staff presence. This latest interface allows Responder All Touch to receive additional real-time data/information and provides Responder-related events to Versus solutions to help optimize room-based workflows.
Enhance staff and patient safety with All Touch for Wireless Workflow integration
Should nursing staff need help while out of reach of Responder 5 hardware, they can still initiate a staff duress call and summon help to their exact location by simply pressing their Versus RTLS badge button. Receiving alerts from Versus Visibility™ Staff Assist, Responder 5 can then provide a second call annunciation at the point of care and via integrated phone systems to alert key staff to a situation. This feature helps ensure healthcare providers receive the assistance they need while they are focusing on the immediate needs of the patient.
Increase visibility of patient locations and reduce room/bed turnover times
With patient location information from Versus, Responder can initiate corridor lights, whiteboards and calls to show room status. Versus determines room status (available, occupied, in need of cleaning) based on patient badge location, and sends the information to Responder 5 via All Touch to improve bed management and facilitate quicker turnover times.
Improve communication with notification of room-based events
The integration leverages the versatility of the Responder Staff Terminals and All Touch for Bed Management with the Versus RTLS Rules Engine by sending room-based notifications from Responder to Versus to enhance real-time workflow and reporting. It also shares Responder Staff Terminal event information including EVS requests or patient milestones to trigger notifications and workflow rules in a Versus Advantages™ workflow solution. A complete picture including workflow details are available in both Responder and Versus reports.
Automation of nurse call and other clinical systems requires highly accurate location data and effective, efficient interfaces. In a recent report from the research firm KLAS, Versus received the highest rating for location accuracy, as well as for supporting integration goals. 1 For more on the KLAS report, visit versustech.com/KLAS.
1 Source: "Real-time Location Systems (RTLS) 2016," July 2016. © 2016 KLAS Enterprises, LLC. All rights reserved. http://www.KLASresearch.com.
Midmark Corporation acquired Versus Technology, Inc. in May, 2016, creating a unique offering of clinical workflow solutions that encompass clinical workflow services, RTLS technology, medical equipment, diagnostic devices and design assistance for improved efficiency within health systems.
About Rauland Responder
Rauland Responder® critical communication solutions enhance overall communication and workflow within a hospital – patient-to-staff, and staff-to-staff. Responder helps healthcare staff deliver the best possible patient care, with fast, direct communication, flexible integration, intelligent call routing and real-time reporting. Responder helps gather data real-time for easier decision-making, optimizing workflows and enhancing patient care and satisfaction, by utilizing an enhanced open architecture that integrates to a variety of phones, pagers and location systems. For more information, visit rauland.com, or follow Responder on Twitter. Rauland is a division of AMETEK, Inc.
About Versus Technology, Inc.
Versus Technology, Inc., a Midmark company, provides healthcare facilities with operational and clinical workflow intelligence using real-time locating system (RTLS) technology. Since its inception in 1988, more than 850 hospitals, clinics and senior care facilities have used Versus solutions to support healthcare's ultimate goals: enhancing the patient experience while providing high-quality care at lower costs. With enterprise solutions for patient tracking, workflow automation, staff safety, hand hygiene and asset tracking, Versus improves patient flow, communication, and productivity to ultimately increase capacity. To learn more about Versus Technology, Inc., our technology and client successes, visit versustech.com.
About Midmark
Midmark Corporation, a privately held company founded in 1915, is committed to providing innovative products and workflow solutions to healthcare professionals around the world. Offering full lines of exam and procedures tables, as well as workstations, casework, instrument processing, digital diagnostics solutions, real-time locating system (RTLS) technology and more. Midmark is focused on continuously improving physician workflows and enhancing patient-caregiver interactions. Midmark's more than 1,500 teammates worldwide are dedicated to redefining the future of the clinical space and making a positive difference in the practice of healthcare. Headquartered in Dayton, Ohio, Midmark maintains production and administrative offices in Versailles, Ohio, as well as six other locations in the United States and international locations in India, Italy and the United Kingdom. To learn more about Midmark, visit midmarkclinicalsolutions.com or midmark.com, and follow Midmark on Facebook, LinkedIn, Twitter and YouTube.
Safe Harbor Provision
This release may include forward-looking statements which "bespeak caution," and which are subject to risks and uncertainties that could cause actual results to differ materially from the forward-looking statements. The statements are made only as of the date of this release, and the Company undertakes no obligation to update them to reflect subsequent events or circumstances.
###