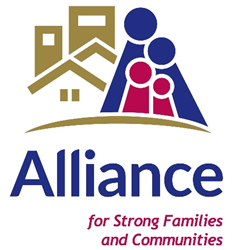 Washington, DC (PRWEB) February 09, 2017
Susan Dreyfus, president and CEO of the Alliance for Strong Families and Communities (Alliance) will testify today before the Federal Commission on Evidence-Based Policymaking (CEP). Dreyfus will speak on behalf of the Alliance – a national network comprised of thousands of high-impact social sector leaders across the United States – on the importance of alignment of evidence to practice, policy, budget, and regulatory change.
"Together community-based organizations, like those in the Alliance network, serve as the engine for human capital development by facilitating opportunities that build human potential," said Dreyfus. "Social sector organizations operate at the nexus of practice, policy and people, where we generate the majority of outcomes data used to inform the development of best practices that should be used to guide evidence-based policy," she added.
The Commission's public hearing is the third since the inception of the panel tasked with improving the government's use of data in policymaking, created through legislation co-sponsored by Speaker Paul Ryan (R-WI) and Senator Patty Murray (D-WA).
"We are grateful for the opportunity to share the perspective of social sector professionals from across the country, as we believe this is the right time for significant steps forward in developing a modern human services system that leads to stronger and healthier families, communities and workforce," said Dreyfus. "The Alliance strategic action network is dedicated to achieving the vision of a healthy and equitable society for all children, adults and families."
Dreyfus will address three key issues in front of the Commission:
1. Why federal policy needs to ensure there is alignment between intersecting systems to benefit the lives of the people who these programs serve.
2. Why staff development is a crucial investment necessary to produce better outcomes for children and families. Simply requiring the use of evidence without equipping organizations to develop and support staff who implement the models will not be successful.
3. Why deep investments in research and development will help create the conditions by which today's practitioners will innovate and identify tomorrow's solutions.
In addition to bringing a practice-informed perspective, Dreyfus's comments draw from her previous role as the secretary for the Washington State Department of Social and Health Services where she was responsible for Medicaid, child welfare, behavioral health, juvenile justice, and economic assistance, among others. Prior to her public sector leadership in Washington, she was the first administrator for Wisconsin's Division of Children and Family Services. From 2014 to 2016, she served as a commissioner for the Federal Commission to Eliminate Child Abuse and Neglect Fatalities.
About CEP
The CEP was established by the bipartisan Evidence-Based Policymaking Commission Act of 2016. The Act was sponsored by Speaker Paul Ryan (R-WI) and Senator Patty Murray (D-WA), and signed by President Barack Obama on March 30, 2016. It recognizes that better use of existing data may improve how government programs operate. The mission of the Commission is to develop a strategy for increasing the availability and use of data in order to build evidence about government programs, while protecting privacy and confidentiality. Through the course of the Commission's work, members will study how data, research, and evaluation are currently used to build evidence, and how to strengthen the government's evidence-building efforts.
The Commission is composed of 15 members, appointed by the President, the Speaker of the House, the House Minority Leader, the Senate Majority Leader, and the Senate Minority Leader. Members include individuals with experience as academic researchers, data experts, program administrators, and privacy experts.
The hearing provides an opportunity for interested stakeholders to present their views on issues relevant to the Commission's charge.
The Alliance for Strong Families and Communities is a strategic action network of thousands of committed social sector leaders driving to achieve a healthy and equitable society. We aggregate the very best sector knowledge and serve as an incubator for learning and innovation to generate new solutions to the toughest problems. We accelerate change through dynamic leadership development and collective actions to ensure policies and systems provide equal access and opportunity for health and well-being, educational success, economic opportunity, and safety and security. Go to alliance1.org for more information (alliance1.org), or contact Lorraine Dowdey, ldowdey(at)alliance1(dot)org, 202.429.0599.
More information about the CEP along with a list of the 15 commissioners can be found at https://www.cep.gov/commissioners.html..