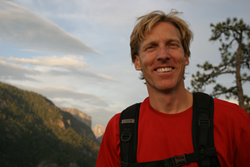 I am excited to share some of my experiences with supporters of the restoration of the Hetch Hetchy Valley. To me, Yosemite Valley is the Mecca – the center of the climbing universe.
Oakland, CA (PRWEB) February 13, 2017
Restore Hetch Hetchy today announced that world champion rock climber and author Hans Florine, who holds or shares several world records for climbing the 'nose' of El Capitan in Yosemite Valley, will keynote its 9th annual fundraising dinner on Saturday, March 11th. Restore Hetch Hetchy will also present the John Muir Heritage Award to founding board members Mark Cederborg and Mark Palley.
"I am excited to share some of my experiences with supporters of the restoration of the Hetch Hetchy Valley," said Florine. "To me, Yosemite Valley is the Mecca – the center of the climbing universe - and yet Yosemite's Hetch Hetchy Valley is all but unknown due to the limited access to its walls. We are missing out on the sister of the greatest climbing area in the world."
The dinner, which celebrates Restore Hetch Hetchy's plans for returning Hetch Hetchy Valley to Yosemite National Park, will be held at the historic Berkeley City Club, a stunning venue designed by famed architect Julia Morgan, who also designed Hearst Castle.
"We are honored that Hans is joining us at our annual dinner. The climbing community has been a long time supporter of our efforts. Climbers know the tremendous opportunities restoration of the valley offers not only to their community, but also to hikers, picnickers … and non-climbing visitors who simply want to stand waist-deep in grass and flowers 'while the great pines sway dreamily' as John Muir once did," said Restore Hetch Hetchy Executive Director Spreck Rosekrans. "We are also proud to honor Mark Cederborg and Mark Palley who, over the years, have been instrumental to advancing our mission of restoring Hetch Hetchy and making Yosemite whole once again."
Keynote Speaker
Hans Florine is a speed climber, professional speaker, author and thought leader in speed and efficiency. Florine has repeatedly set and broken one of the most coveted speed records in the world: The Nose of El Capitan, a 2,900-foot monolith in Yosemite Valley. In 2012, Hans, alongside climbing partner Alex Honnold, took the record again in 2 hours and 23 minutes, lowering the previous record by a full 13 minutes. He also holds numerous speed records in Yosemite National Park and all over the globe. Hans won the first International Speed Climbing Championships in 1991 and has held the U.S. National title eleven times. He won gold at the ESPN X-Games three years in a row. As a speaker, Hans challenges audiences to rethink what "speed" really means and is the author of "Speed is Power," an audio program full of ideas, examples, and tools to utilize the fundamentals of speed in business and life. Hans is also the co-author of "Speed Climbing," now in its second edition and producer of the award-winning documentary, "Wall Rats." Hans is an athlete/ambassador for Outdoor Research, KineSYS, Honey Stinger, NUUN Hydration, Blue Water Ropes, La Sportiva, Petal and DFX Sports. He is an ambassador for The Access Fund, an active member of The American Alpine Club and supporting member of the Yosemite Fund, Leave No Trace and South Yuba River Citizens League (SYRCL).
John Muir Heritage Award
Mark Cederborg, currently serving as Vice Chair of Restore Hetch Hetchy, is a Restoration Specialist, Manager and Principal at Hanford ARC. Mark's experience in habitat restoration has guided and inspired Restore Hetch Hetchy since its inception. Mark authored the Dam Removal and Valley Restoration chapters of "Finding the Way back to Hetch Hetchy Valley" (Restore Hetch Hetchy, 2005).
Mark Palley, currently serving as Secretary of Restore Hetch Hetchy, is a civil litigation attorney and a founding partner of an Oakland law firm called Marion's Inn. Mark's legal expertise has served Restore Hetch Hetchy throughout the life of the organization – from drafting our bylaws to advising our legal campaign in the California courts.
The 7th annual Restore Hetch Hetchy Dinner will take place on March 11 at the Berkeley City Club, 2315 Durant Avenue, Berkeley, CA. Reception begins at 6:00 pm, followed by dinner at 7:00 pm.
For information on purchasing tickets, contact Julene Freitas: julene(at)hetchhetchy(dot)org / 510-893-3400 and for more information on Restore Hetch Hetchy, go to: http://www.hetchhetchy.org/
INTERVIEWS: We will gladly arrange interviews with Restore Hetch Hetchy Executive Director Spreck Rosekrans.
ABOUT RESTORE HETCH HETCHY: The mission of Restore Hetch Hetchy is to return the Hetch Hetchy Valley in Yosemite National Park to its natural splendor while continuing to meet the water and power needs of all communities that depend on the Tuolumne River.
Restore Hetch Hetchy is presently engaged in litigation with the City and County of San Francisco, arguing that storing water in an iconic glacier carved valley violates the California Constitution's mandate that all methods of diversion be reasonable. Restore Hetch Hetchy intends to show the court that not one drop of water supply need be lost in restoration.
Contacts:
Media Relations
Melanie Webber, mWEBB Communications, (424) 603-4340, melanie(at)mwebbcom(dot)com
Elizabeth Johnson, mWEBB Communications, (213) 713-4865
elizabeth(at)mwebbcom(dot)com