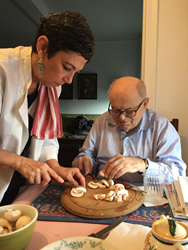 We have created a new social atmosphere where all are gathered in the kitchen — just like old times. The client, aide, family, chef and friends all play a role.
New York, N.Y. (PRWEB) February 13, 2017
Alliance Homecare – a concierge home health care provider serving individuals and families in New York City, Long Island, Westchester and the Lower Hudson Valley, has partnered with TOHI Wellness, a holistic health coaching provider, to offer healthy cooking sessions for seniors and their Alliance home health aides. The collaboration brings a professional chef into clients' homes with organic recipes and hands-on cooking lessons to inspire a healthy lifestyle in the New Year. The new campaign reinforces the concierge home health company's high-touch approach.
Led by private chef and speaker Stephanie Levine, founder of TOHI Wellness, the cooking sessions allow Alliance home health aides to develop integrative nutrition programs for their clients. Each session is tailored to the client, who can be as involved as much or as little as he or she would like — from watching and tasting to assisting in food preparation.
"We have created a new social atmosphere where all are gathered in the kitchen — just like old times," said Levine. "The client, aide, family, chef and friends all play a role. The partnership enables clients and their families to have fun together and become passionate about healthy eating and maintaining a vibrant life. At the same time, we are preparing organic healthy meals for the client – between 4-6 balanced meals for the week. It's a win-win situation."
Following an initial intake session where Levine notes a client's food preferences and any allergies, a personalized menu and shopping list is prepared for the Alliance home health aide. In addition to being a social and therapeutic outlet for clients, the cooking sessions also serve as training for health aides to learn how to prepare, shop, cook and store organic healthy meals.
"Alliance cares deeply about the nutrition and quality of life of all our clients," said Greg Solometo, co-founder and CEO of Alliance Homecare. "We strive to ensure that every person's home remains a place where he or she can live comfortably and safely without feeling isolated. This new partnership with Stephanie and TOHI Wellness is representative of our commitment to providing comprehensive quality, holistic and collaborative care."
Levine received her training in health and nutrition from the Institute for Integrative Nutrition and SUNY Purchase College. She is a member of the American Association of Drugless Practitioners, an organization that certifies health professionals who do not work with pharmaceuticals. Levine has studied with several of the world's foremost authorities on wellness, nutrition and coaching – including Neal Barnard, Deepak Chopra, Barry Sears, Mark Hyman, David Wolfe, Bernie Siegel and Memhet Oz. Her knowledge encompasses over forty dietary approaches from both Eastern and Western medicine.
As a food and wellness enthusiast and health advocate, Levine believes in utilizing locally grown, nutrient dense ingredients that are both vibrant and delicious. Many cooking sessions feature recipes from Levine's own organic vegan food line, Tohi Organics Vegan Meals.
Alliance Homecare is located on the sixth floor of 252 West 37th Street in New York. They can be reached at 1.877.NURSE80 or http://www.alliancehomecare.com. For the latest news and updates, follow Alliance Homecare on LinkedIn, Facebook (@AllianceHomecareNY), Twitter (@alliancehcny) and Google+.
About Alliance Homecare
Alliance Homecare is a concierge home health care company which offers an extensive range of high-quality private home care services to an elite client base in lower New York State which includes: the five boroughs of New York City, Nassau, Suffolk, Westchester and Rockland Counties. Co-founded in 2006, Alliance has a uniquely selective hiring process, known as The Grandma RuleSM. This process ensures Alliance only hires the highest caliber of registered nurses, home health aides and health care professionals, resources the company would be comfortable caring for their own families. These specialized professionals provide best-in-class care for Alliance's clients and their loved ones while honoring a strict code of confidentiality. A Licensed Home Care Services Agency (LHCSA), Alliance's services include private duty nursing, home health aides, companions, professional care management, physical therapy, and nutritional counseling. To learn more, visit http://www.alliancehomecare.com.