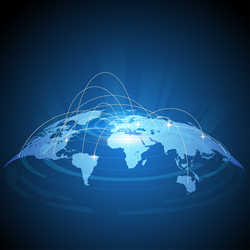 "This is the future of logistics."
North Bergen, NJ (PRWEB) April 05, 2017
Axis Global Logistics, a leading provider of fully customized single-source supply chain solutions for companies in a variety of industries, has partnered with Kezzler AS to offer a real-time, high performance, secure, and scalable serialization solution that powerfully connects companies with their products and consumers worldwide.
Kezzler's system architecture has been designed to circumvent the performance limitations of traditional serialization systems. Its innovative, patented technology provides real-time visibility throughout the supply chain in a significantly smaller IT footprint at a lower total cost and with a faster time-to-market. Each product is assigned a cryptographically secure Unique Identity (UID), and, at every step, a cloud-based system enables the tracking of a product: where it has been, where it is, and where it is going. The system's functionality is fully compatible with existing supply chain operations, ensuring an exceptional level of visibility, control, and efficiency.
"By partnering with Kezzler, Axis can provide clients with technology that allows the tracking of every step of a shipment, ensuring products remain authentic," said John Cheringal, Managing Partner. "This is the future of logistics."
About Axis Global Logistics
Axis Global Logistics is a third-party logistics (3PL) provider with 11 locations and over 1,500 agents worldwide, including in North America, Europe, and Asia. Founded in 1997 by veteran logistics professionals with decades of experience, the company provides clients across a broad array of industries and business sectors with deep expertise in supply chain management and the highest level of quality assurance. Axis' industry specific supply chain solutions are built on the knowledge of a powerful leadership team as well as industry leading web-based technology that provides clients with flexibility and real-time visibility and control throughout the process. For more information, visit http://www.axisg.com.
About Kezzler
Kezzler is a global leader in serialization technologies and operated platform designed for industrial scale. Kezzler's mission is to standardize serialization and change global business practices by making product items digitally unique and interactive. Kezzler has offices in United States, India, and the Netherlands. To learn more about Kezzler, visit http://www.kezzler.com.