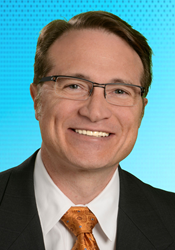 "As we mobilize for closer collaboration among member practices, I couldn't be more excited for the future of private practice through Strategic Radiology."
(PRWEB) February 13, 2017
Radiologist Greg Rose, MD, PhD, has joined Strategic Radiology LLC, as its chief medical officer. His primary focus will be to lead clinical quality efforts and extend subspecialized reading service lines offered to members across its reading network.
"As a physician owned and led organization, we recognize in Dr. Rose the passion for excellence and leadership that will help us to add value for our patients, hospital clients, and member practices," said Arl Van Moore, Jr., MD, FACR, chairman of Strategic Radiology. "Through collaboration, Strategic Radiology combines the best features of local independence with centralized leadership to move us forward as a united organization."
Dr. Rose is the founder of Rays®, a teleradiology service recognized by the industry and the market for quality and service. He completed his radiology residency at Baylor University and an MRI fellowship at Mayo Clinic. Dr. Rose earned a PhD in physics from Texas A & M, and holds three radiology technology patents.
"It will be my great privilege to serve such a large group of talented and honorable radiologists and its great vision for the future of radiology," said Dr. Rose. "As we mobilize for closer collaboration among member practices, I couldn't be more excited about the future of private practice through Strategic Radiology."
Dr. Rose has published research in the fields of solid state theory, laser theory, mammography, teleradiology, and magnetic resonance elastography. He was a co-architect of a trademarked distributed-reading platform with a unified worklist and has been in private radiology practice since 1998.
 
About Strategic Radiology
SR consists of 25 radiology group practices across the United States representing more than 1,400 radiologists. The company's goal is to achieve higher quality patient care and more cost-efficient delivery of medical imaging through an integrated approach of shared data and best practices, interchanging clinical expertise, and consolidating certain practice expenses.
SR Core Members:

Advanced Radiology Services; Grand Rapids, MI
Austin Radiological Association; Austin, TX
Central Illinois Radiological Associates; Peoria, IL
Charlotte Radiology; Charlotte, NC
Diversified Radiology; Denver, CO
Huron Valley Radiology; Ann Arbor, MI
Inland Imaging; Spokane, WA
Jefferson Radiology; Hartford, CT
Mountain Medical Physician Specialists; Salt Lake City, UT
Northwest Radiology; Indianapolis, IN
Quantum Radiology; Atlanta, GA
Radiant Imaging, Inc. (including The Hill Medical Corporation and Arcadia Radiology Medical Group divisions); Pasadena, CA
Radiology Associates of North Texas; Dallas/Fort Worth, TX
Radiology Associates of South Florida; Miami, FL
Radiology Ltd.; Tucson, AZ
Southwest Diagnostic Imaging, Ltd. (EVDI Medical Imaging, Scottsdale Medical Imaging, and Valley Radiologists); Phoenix, AZ
University Radiology; East Brunswick, NJ
SR Affiliate Members:

Casper Medical Imaging and Outpatient Radiology; Casper, WY
Medical Center Radiology Group; Orlando, FL
Modesto Radiologic Medical Group (MRMG); Modesto, CA
Professional Radiology, Inc.; Cincinnati, OH
Radiologic Medical Services; Iowa City, IA
Radiology Associates PA; Little Rock, AR
Rome Radiology Group; Rome, GA
Southeast Radiology, Ltd.; Glen Mills, PA
More information can be found at http://www.strategicradiology.org.