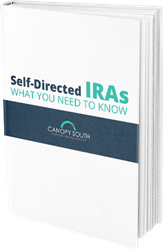 "We believe that investors have a right to take an active role in their financial planning." Al Cocke, Canopy South CEO
Nashville, TN (PRWEB) February 14, 2017
Canopy South Capital Management, LLC announces the publication of Self-Directed IRAs: Diversify Your Retirement Portfolio by Investing in Real Estate with a Private Equity Firm, which can be downloaded here: http://info.canopysouth.com/retirement-investing-ebook
The company's new eBook helps investors learn more about self-directed IRAs, investing in real estate, and diversifying their retirement portfolios.
The well-researched publication explains the benefits of self-directed IRAs and defines the roles of investors, fund administrators, and real estate private equity investment firms. Readers will learn how to take an active, responsible role in retirement investing. Savvy investors will also find useful information about how to conduct due diligence on potential investment opportunities.
"We believe that investors have a right to take an active role in their financial planning. Furthermore, we believe that a self-directed IRA is a great way for qualified investors to have a hand in their financial future, today," commented Canopy South Capital Management, LLC Founder and CEO Al Cocke.
ABOUT CANOPY SOUTH CAPITAL MANAGEMENT, LLC
Canopy South Capital Management is a real estate-focused company based in Nashville, TN that engages in lending, investing, and developing real estate related projects. Its diverse portfolio of investments differentiates the company from its competitors. The company looks for a variety of real estate opportunities that provide a combination of income, appreciation, value, and stability. Investing in real estate is a complex undertaking and Canopy South Capital Management simplifies the process for its individual investors, making it a great option for investors seeking alternatives to the volatile stock market and lackluster bond market. Experienced developers, seasoned real estate investors, professional contractors, and deal makers can rely on Canopy South to provide the capital they need for growth. The company serves the community by developing high quality, environmentally conscious, and aesthetically appealing properties.
The company welcomes inquiries from accredited investors, LLCs, partnerships, and individual and business trusts.
Canopy South Capital Management, LLC is not a provider of self-directed IRAs, nor does the company offer legal advice or financial planning. Investors interested in establishing a self-directed IRA should work with a professional IRA administrator with experience in investing in real estate. If assistance is needed, the company can help investors find IRA administrators.