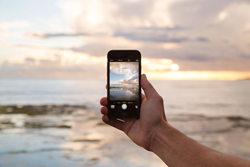 High performance technology will soon be pocket-sized, and photo fans can take high-quality pictures without unwieldy equipment
New York, NY (PRWEB) February 14, 2017
From 360° photography to action cameras and drones, photography continues to know no bounds, offering faster and more realistic solutions than ever before. But what can photographers and enthusiasts expect in 2017? Jan-Ole Schmidt, the Product Manager at online photo lab WhiteWall, provides some insights about which photo trends will catch on during the coming year, and beyond.
Pro Devices for Everyday Use: Smartphone Photography on the Rise
It is not just the cameras in the smartphones that are getting better – accessories and add-ons are being introduced at an incredible pace and with amazing quality. Supplementary gadgets can vastly improve the performance of consumer mobile devices. Modern light gauges and high-end, detachable lenses can create professional quality pictures.
According to Schmidt, most of the customers at WhiteWall.com order prints from photos they've taken themselves and this tendency will continue to increase with the constant improvement of smartphone cameras. "Leading optics and optical electronics companies have managed to set new quality standards in wide angle lenses, telephoto lenses and macro lenses," explains Jan-Ole Schmidt. "In addition to that, new smartphone apps are offering complete, cableless control over compatible DSLR, DSLM and compact cameras."
Online photo labs have recognized this trend in mobile photography and make it possible for customers to upload photos directly from their smartphones. Websites will continue to be redesigned to accommodate prints orders directly from mobile devices and expand services based on the growing trend.
"With the fast pace of technological and smartphone development, WhiteWall is continually optimizing its website and ordering process. Our goal is to make the process faster and easier for our customers while maintaining world class quality and service for our mobile users," Schmidt explained.
Software vs. Accessories
One trend worth keeping an eye on is the rise of mirrorless cameras (DSLM), which have established themselves as strong competition for traditional digital SLR models. Since DSLM cameras do not contain some of the bulkier components, they can be significantly lighter and smaller than their DSLR counterparts. "Photography of the future will rely on lighter cameras, but with more software. This is especially apparent in current compact system cameras," Schmidt explains. "High performance technology will soon be pocket-sized, and photo fans can take high-quality pictures without unwieldy equipment." As the selection of small, lightweight camera options continues to grow, Schmidt also believes the trend toward printing will also increase. "We believe the trend toward printing photos to be hung in homes will continue to grow for the next several years."
UltraHD Photo Print – Trending Toward the "Super-Cool" print
According to Schmidt, a new ultraHD Photo Print process is putting the "cool factor" back into making physical prints and believes the trend will increase as high quality cameras that fit in your pocket continue to be available at affordable prices. ultraHD Photo Prints are created using an innovative new technique that enables the lab to achieve twice the resolution of conventionally-developed pictures and appear more realistic than conventional photo prints. WhiteWall uses its own specially developed software to optimize each picture's color intensity and sharpness, in order to take full advantage of the ultraHD technique. The result is an exceptionally vivid print with intense colors and details. Mounting the image under acrylic glass will add a world class dimension to a process that is expected to trend upward in 2017, and beyond.
About WhiteWall
WhiteWall is a professional online photo lab based in Berlin, Germany. Their unique blend of custom photo processes and finishing services have provided photographers and consumers alike with gallery quality products since 2007. Best known for its photos under acrylic glass, brilliant HD Metal and aluminum prints, and hand-crafted frames, the award-winning online photo lab offers over 1,000 different product variations. As the exclusive lab for more than 40 LUMAS galleries around the world, all WhiteWall customers can be assured that their photos are given the same white-glove, professional care as those displayed in exhibitions.
All products are produced in Germany, available in custom sizes and shipped worldwide in custom cut packaging for maximum protection. The showroom and retail store in New York City gives customers an opportunity to see all the WhiteWall options on display and receive professional assistance onsite before placing their online orders directly to WhiteWall.com from kiosks located in the store.
# # #