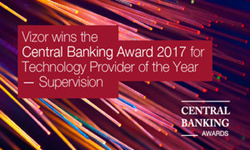 I am delighted that Vizor has been awarded this prestigious technology award. Conor Crowley, Vizor
Dublin, Ireland (PRWEB) February 14, 2017
Vizor, the global leader in regulatory technology, today announced the Company has won the Central Banking 2017 'Technology Provider of the Year – Supervision' award.
The annual Central Banking awards recognise excellence in serving the central banking community and are judged by a distinguished panel comprised of former senior central bankers from all over the world, as well as the Central Banking Editorial Team and Editorial Advisory Board.
"The judges were impressed with Vizor's strong client feedback as well as how Vizor Software has transitioned itself from a niche consultancy to technology provider of choice for Central Banks and official institutions in 30 countries, including Canada, the United Kingdom and Saudi Arabia."- Christopher Jeffery, Chairman of the Central Banking Awards Committee and Editor-in-Chief of Central Banking
The 'Technology Provider of the Year – Supervision' award is judged on system suitability, implementation, customisation calibration, and after sales, and is awarded to the provider who has made a substantial improvement in the operations of central banks.
"I am delighted that Vizor has been awarded this prestigious technology award," commented Conor Crowley, Joint CEO of Vizor Software. "I believe this perfectly reflects Vizor's position as the trusted global leader and software vendor of choice for the world's leading central banks and financial regulators, and I am proud that Vizor Software underpins the critical supervisory functions of these institutions."
The award will be officially presented to Vizor Software at the annual Central Banking Awards Gala being held March 23rd in London at The Waldorf Hilton.
About Vizor Software
Vizor Software has been the standard for financial regulatory technology since 2000. Leading the way in regulatory supervision software, Vizor Software is trusted by Central Banks and Financial Regulators from around the globe for the collection, validation and analysis of highly complex data from Financial Institutions. Serving the needs of financial regulators in more than 30 countries, Vizor is a trusted partner of large consulting firms and leading XBRL toolset providers. Employing a collaborative, agile approach to implementing regulatory solutions, Vizor simplifies and strengthens financial regulation systems. You can learn more and visit Vizor at http://www.vizorsoftware.com or by following Vizor on Twitter, LinkedIn, Google+ and Pinterest.