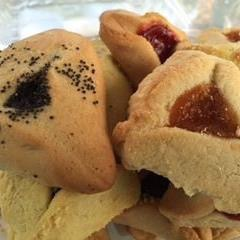 Sim Shalom is hoping to offer a message of simple joy and provide an answer to a manageable question, who makes the best hamantashen.
(PRWEB) March 01, 2017
Beginning Monday March 6th, Sim Shalom Online Synagogue will offer a week of flavorful festivities from sunny Florida, served on Facebook live to the global community. The offerings will include the pursuit of the most scrumptious hamantashen, joyful music and a Purim Shabbat complete with groggers. The hamantashen contest will be judged for creativity and fruitfulness, in a region where discerning critics from bubbes to grandchildren hold the pastries in high regard.
Purim celebrates the Jewish victory over the plot to annihilate Jews by a villain Haman in ancient Persia as written in the Book of Esther. Hamantashen symbolizes the three headed hat worn by by Haman. The groggers are sounded each time his name is read in the Text of the Esther Scrolls. drowning out evil.
Joining the contest, is newly ordained JSLI Rabbi Karen Becker -Marcelo. According to Rabbi Karen " As a transplanted New Yorker I know hamantashen. I will be applying my culinary chops and knowledge of Jewish bakeries in the area." This will be connoisseur Rabbi Blane's third attempt to find the delectable pastry. His foray with the challenge held in New York in 2015 netted him a plate of cookies consumed by his dogs, no finalist was proclaimed. In 2016, Blane got confused with the multitude of choices in South Florida and inadvertently selected a croissant as the best hamantashen.
As part of the fun, Rabbi Karen, with a little assist from a guest, will show how to make the prune and apricot triangular treats. This year with the world full of vexing problems, Sim Shalom is hoping to offer a message of simple joy and provide an answer to a manageable question, "Who makes the best hamantashen."
Followers can join the free interactive celebrations all week with programming that will feature UJUC Rabbis on the new JU -tv steamed live on the Sim Shalom Facebook page.
The Purim Shabbat will be led by Sim Shalom and JSLI Founder, Rabbi Steven Blane, donning full masquerade and guitar on Friday, March 10 at 7:00pm EST at the Sim Shalom website.
About Sim Shalom
Sim Shalom is an interactive online Jewish Universalist synagogue which is liberal in thought and traditional in liturgy. Created in 2009 by Rabbi Steven Blane on Manhattan's Upper West Side, Sim Shalom offers a means of connecting the unconnected. Rabbi Blane leads accessible and short Shabbat services every Friday night using a virtual interface and additionally Sim Shalom provides online education programs, Jazz concerts, conversion and life-cycle ceremonies along with weeknight services at 7:00PM EST led by Rabbis and students of this online community.
Rabbi Blane is also the founder and director of the Jewish Spiritual Leader's Institute, the online professional rabbinical program.
Sim Shalom, a non profit 501 © (3) tax-exempt organization, nurtures a Jewish connection through its mission of innovative services, creative education and dynamic outreach to the global community. For more information visit our website or call 201-338-0165