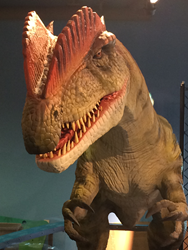 With Explore•a•Saurus, we have translated the excitement kids have for dinosaurs into an experience that lets visitors investigate, build, and create – as they explore the world of these incredible animals.
Boston, MA (PRWEB) February 15, 2017
Boston Children's Museum announces the opening of the hands-on dinosaur exhibit, Explore•a•Saurus, Friday, February 17. The exhibit invites children and families to assume the role of scientist and explore the evidence, the science, and the features that make dinosaurs so compelling.
Explore•a•Saurus is more than just looking at dinosaurs – it is about observing fossil evidence and developing one's own theories about how dinosaurs may have looked and behaved. Visitors can touch and measure a fossil footprint and learn what clues it gives about a dinosaur's size. Families can manipulate a full-size model of a dinosaur, learn about how they moved, and rearrange bone puzzles to learn about dinosaur anatomy.
"We are absolutely thrilled to present the Museum's first-ever dinosaur exhibit," said Carole Charnow, President & CEO. "Not only will the kids love the dinosaurs, adults will be delighted by the STEM skills their children learn as they explore this multi-faceted investigation of one of the most fascinating and fun subjects of natural history."
Explore•a•Saurus is organized around the questions that kids most often ask about dinosaurs – How big were they? How fast did they move? What did they do? What did they look like? Each exhibit area presents direct evidence about some aspect of dinosaur anatomy or behavior, encourages visitors to analyze that evidence, and invites them to develop their own theories based on the evidence. Because many questions are still debated in scientific circles, these questions are an invitation to see science as a living and continuing endeavor.
Visitors to the exhibit are invited to:

Touch and measure a fossil footprint and estimate the size of the dinosaur that left it behind
Make an animatronic life-sized model of a Dilophosaurus move
Build a three-dimensional dinosaur bone puzzle
Paint virtual skin on a dinosaur skeleton, and imagine what these animals might have looked like when they roamed the earth
"Like many kids, I was fascinated by dinosaurs and spent as much time at the natural history museum as I could talk my parents into," said Alexander Goldowsky, Senior Vice President, Exhibits and Programs. "With Explore•a•Saurus, we have translated the excitement kids have for dinosaurs into an experience that lets visitors investigate, build, and create – as they explore the world of these incredible animals. We hope it fosters a lifelong interest in the amazing and creative aspects of science."
The science skills that kids practice in Explore•a•Saurus – measuring, estimating, using tools, using math, solving problems, developing theories, examining evidence – are the same STEM skills that appear in Next Generation Science Standards and other science standards. These skills or "habits of mind" are critical throughout children's schooling, and throughout their lives. The STEM investigations in this exhibit build from children's natural curiosity and excitement about the prehistoric world of dinosaurs.
The Explore•a•Saurus exhibit includes components developed collaboratively with Autodesk and Mathworks. The animatronic dinosaur was generously sponsored by Bill and Cheryl Swanson. Partners include the Ecotarium and the Environmental Exhibit Collaborative. The Museum also worked on exhibit development with scientific advisors James Kirkland Ph.D., Scott D. Sampson Ph.D., Alfred J. Venne M.Ed., and Blake R. Wigdahl M.B.A.
The 1,500 square foot touring exhibition will open at Boston Children's Museum for 1 year, and then travel nationally to other children's museums and science centers.
For additional information visit BostonChildrensMuseum.org
About Boston Children's Museum
Boston Children's Museum engages children and families in joyful discovery experiences that instill an appreciation of our world, develop foundational skills, and spark a lifelong love of learning. More information about Boston Children's Museum can be found at http://www.BostonChildrensMuseum.org. Become a fan of the Museum on Facebook and follow us on Twitter
Hours and Admission
The Museum is open daily from 10:00 a.m. – 5:00 p.m. Fridays until 9:00 p.m. Adults, $16, children (1-15) and senior citizens, $16; children under 12 months and Museum members are always free. Fridays 5:00 p.m. – 9:00 p.m., all visitors $1.
###