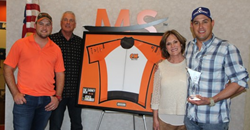 Houston, TX (PRWEB) February 16, 2017
FireDisc® founders, Hunter and Griffin Jaggard, are no strangers to perseverance. Raised in Texas by two hard-working parents, they developed a strong work ethic, a passion to help solve problems and never give up. "I can't" was a foreign notion in the fabric of the Jaggard family. In December of 2002, Griffin Jaggard was diagnosed with multiple sclerosis. In response, brother and best friend, Hunter Jaggard, rallied in support and "The Carney Men" Bike MS team was formed. 15+ races later, Jaggard is healthy as a horse, and $1M dollars has been raised to support the National Multiple Sclerosis Society. Team Carney Men, is the first non-corporate team to raise $1 Million for the South Central Chapter and just received the Circle of Distinction award from the National MS Society. Their goal is ride the BP MS 150 every year until there is a cure for Griff and the millions of others living with multiple sclerosis.
"In December of 2002, a junior at Texas Tech University, I was diagnosed with multiple sclerosis," recalls FireDisc® President and Co- founder, Griffin Jaggard." "It was one of the toughest times in my life. I did not know what to think and at that time I did not have much knowledge about the disease and its effects. I was worried and scared. My friends and family shared the same emotions," Jaggard added.
Not long after the diagnosis, during a Red River Waylon Jennings Tribute concert, Griff's brother and best friend, Hunter, shared the fact that a Bike MS team had been formed in his honor. "I was shocked, at a loss for words and so proud to have such a caring brother," said Jaggard. "I'll never forget, my brother Hunter told me that we were going to battle this disease head-on and do everything we could to find a cure." The brother team formed a non-profit, and 15 rides later, "The Carney Men" have raised $1M via Bike MS to support the National Multiple Sclerosis Society. That wasn't enough. They took their story on the road and inspired hundreds of others with their story and team strategy.
Team Web Site:
http://www.ms150carneymen.org/
Video:
https://youtu.be/r4CmbZ4mpsg
Many people have heard about multiple sclerosis, but do not know much about the nature or effects of this unpredictable disease.

Multiple sclerosis is a chronic, often disabling disease of the central nervous system. MS is typically diagnosed in the "prime of life," when people are building careers and starting families.
Symptoms can include tingling or numbness of body parts; difficulty with speech and walking; blurred or double vision; poor coordination; loss of balance; tremors; and weakness, tightness or spasticity (feelings of stiffness and a wide range of involuntary muscle spasms).
Severe cases of MS can result in blindness and partial or complete paralysis. MS may also cause a person to have subtle, "invisible" symptoms, such as pain, extreme fatigue, and cognitive changes such as mood swings, forgetfulness and difficulty concentrating.
MS is unpredictable. No two cases are the same. Symptoms may appear in any combination, may come and go, and may vary from mild to severe.
There are approximately 400,000 Americans living with multiple sclerosis.
2.3 million people worldwide are living with MS.
MS affects more women than men at a ratio of 3:1.
Average age of those diagnosed are between the ages of 20-40, the symptoms of MS have been known to appear in early childhood or long after the age of 60.
Since the inception of the Carney Men, the Jaggard brothers have expanded their humanitarian efforts to include support for local volunteer firemen, Halter, Inc. Bridges to Life, The Center for Hearing and Speech, The National Breast Cancer Foundation, The Cystic Fibrosis Foundation, and the Lone Survivor Foundation and more.
About FireDisc®:
Texas-based FireDisc® specializes in the design and manufacturing of the world's most innovative, high-quality and versatile portable outdoor cookers and accessories. The company was founded by two entrepreneurial brothers, Griffin and Hunter Jaggard, who, armed with a makeshift tractor plow disc set out on a mission to build a cooker worthy of everyone from the world's top chef's to hunters, backyard family grill masters, tailgaters and campers. FireDisc® Cooker products are currently sold nationally and online throughout the globe.
Heavy-duty ultra-high carbon steel construction render the cookers indestructible, while meticulous designs yield convenient portability and ease-of-use. A rigorous "Chef-tested/Chef-Approved" quality assurance program enables the cookers to deliver unmatched cooking characteristics, as they have been vetted by some of the world's leading chef's. Prior to their launch of FireDisc® Cookers, the founders formed a non-profit to raise money and find a cure for Multiple Sclerosis. To date $1M has been raised via "The Carney Men" Bike MS team. For more information, visit http://www.firedisccookers.com.
Media Contact
Janine Robertson
Cell: 206-354-9093
firediscjanine(at)gmail(dot)com
http://www.firedisccookers.com
Built to Haul, Cooks it All!