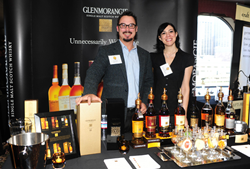 I'm pleased to see the array of new whiskies at the San Francisco show. The San Jose event has progressed as well, as we are bringing more whiskies and more guests to a larger venue, said Douglas Smith, the Event Director
San Francisco, CA (PRWEB) February 15, 2017
The Whiskies of the World Expo today released the exciting line up of brands participating at this year's events which will be held on Thursday, March 30 in San Jose and on Friday, March 31 in San Francisco. In San Jose over 700 guests celebrate the fine spirits at Forager Tasting Room & Eatery, downtown San Jose's private events venue striving to highlight local craft culture. The San Francisco Belle, Hornblower Yacht (remains docked) is the destination for over 1200 whisky enthusiasts, experts, restaurant and bar owners, and industry specialists.
The flagship event of San Francisco, now in its 18th year, gathers the world's most fascinating distilled spirits along with their makers and ambassadors to give its guests an opportunity to sample, learn and experience the art of whisky. A San Francisco favorite, the Expo is adding new and exciting details to the evening to make sure that this is the event of the year.
From the biggest brand names to small hard to find boutique whiskies, there will be a spirit to suit everyone's taste. In addition to incredible spirits from every corner of the world: as close as California to as far as Japan, the Expo will also feature seminars conducted by Master Distillers and Brand Ambassadors.
Travis Tidwell (Moet Hennessy): "Beauty and the Beast: Glenmorangie vs Ardbeg."
Gabriel Cardarella (Dewar's): "Last Great Malts."
H Ehrmann (Elixir): "Whisky Mixology."
Adam Spiegel (Sonoma County Distilling)
Cameron Johnston (Alexander Murray)
Thomas G. Brock and Gen Cigar Partagas (Telford's Pipe & Cigars): "Cigar and Whisky Pairing."
Guests will also enjoy a range of food and whisky pairing with artisanal foods from Dirty Water, Dirty Habit and Thirsty Bear restaurants; Poco Dolce and Bridge chocolatiers, McQuade'sCeltic Chutney, and more. In addition, the Expo will allocate the top deck for Cigar and Whisk(e)y pairing- a stand out component of the event.
San Francisco VIP tickets cost $165 (sold out) and General Admission tickets cost $140.
San Jose tickets cost $80.
For more information and to purchase tickets, visit http://www.whiskiesoftheworld.com.
Brands Exhibiting are:
WHISK(E)Y
Dry Fly
Egan's Irish Whiskey
High West
James E. Pepper
Michter's
Ohishi
Redemption Rye
Roundstone Rye
Slaughter House Whiskey
WhistlePig
8 Seconds Canadian
SCOTCH AND OTHER MALT WHISKIES
Aberfeldy
Aberlour
Alexander Murray
Amrut
Ardbeg
Aultmore
Benromach
Blackadder
Brenne
Bunnahabhain
Chieftain's
Compass Box
Craigellachie
Cutty Sark
Dalwhinnie
Deanston
Deveron (The)
Dewar's
English Whisky
Exclusive Malts
Glen Scotia
Glencadam
Glengoyne
Glenlivet (The)
Glenmorangie
Highland Park
Isle of Skye
Johnnie Walker
Kilchoman
Loch Lomond
Macallan
Oban
Old Pulteney
Paul John Whisky
Royal Brackla
Single Malts
Singleton
Smokehead
Speyburn
Stalk & Barrel
Talisker
Tamdhu
BOURBON
Black Saddle
Buck Bourbon
Bulleit
Clyde May's
Colorado Gold
Crown Royal
Jack Daniels
Medley Bros
Old Forester
Straight Edge Bourbon
Woodford Reserve
ARTISANAL
Corsair
American Craft Distillers
Lost Spirits Distillery
Low Gap Whiskey
Sonoma County Distilling
Spirit Works Distillery
Venus Spirits
More about Whiskies of the World LLC
Whiskies of the World is based in California and owned by the International Wine & Spirits Competition and Douglas Smith. The first annual Whiskies of the World Expo was held in San Francisco in 1998, and has enjoyed a considerable growth since then.
For general and press information, contact:
Douglas Smith
Event Director
Phone: (408) 225-0446
doug(at)whiskiesoftheworld(dot)com