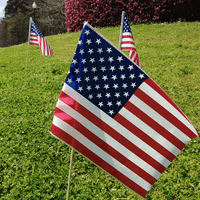 It's our duty to give our customers the stick flag that best suits their needs
Acworth, GA (PRWEB) February 14, 2017
The Flag Company today announced that they have expanded their array of American stick flags with more varieties than ever before. The largest flag manufacturer in the U.S.A., The Flag Company has expanded its line of stick flags to include sewn and single cotton, as well as nylon and poly max varieties. The Flag Company now offers the largest variety of durable stick flags to match every need.
Real estate agents find that stick flags are the perfect way to catch their customers' eyes and unobtrusively draw them toward the property they're selling. Most popular amongst real estate agents are stick flags with the words "model" or "open." In any business, a stick flag can make a real statement and draw in customers.
Stick flags have a history of being used to adorn military cemeteries on Memorial Day and Veteran's Day as seen annually at Arlington National Cemetery. Also known as Farming Flags, these flags derive their name from demarcating various crop sections in farmers' fields. Stick flags are also used to mark golf courses so that players can see holes from a distance.
The Flag Company offers a wide range of sizes of stick flags which. They are reasonably priced between twenty-one cents and twenty dollars, suitable to any customer's price range. There are also stick flags for Halloween and other holidays which can be purchased in packs of 100 and can be selected in cotton or nylon.
The Flag Company also allows special orders so customers have the option of personalizing their flags with any message for any occasion. "It's our duty to give our customers the stick flag that best suits their needs," says the CEO. The Flag Company's mission has also been to create a wide variety of durable stick flag that can be used time and time again.
There has never been a better time to find the stick flag that fulfills all of your needs. The Flag Company will make certain that you get a stick flag that stands out and reflects your unique tastes.
For further information, please call The Flag Company at: 1-800-962-0956