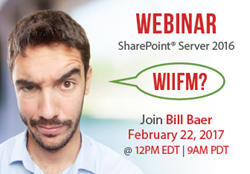 (PRWEB) February 15, 2017
VisualSP has invited Microsoft's Bill Baer to explain the benefits of SharePoint Server 2016, the investments Microsoft has made to improve SharePoint, and why a migration might make sense for an organization. The webinar, titled SharePoint Server 2016: What's in it for Me? will be held February 22, 2017, 12:00 – 1:00pm EST.
During this extensive introduction to SharePoint Server 2016, attendees will learn about the improvements Microsoft has made in:

Infrastructure
Compliance
User Experience
Bill will discuss how Microsoft brought innovation from SharePoint Online experiences to the 2016 on-premises server environment. He also discusses the introduction of MinRole to server farm topology, which enables a role-based installation. Baer is also expected to talk about patching without downtime. During the presentation, he'll provide a walkthrough of the hybrid SharePoint experience.
He is a Senior Technical Product Manager and Microsoft Certified Master for SharePoint in the SharePoint product group at Microsoft. He was previously a Hewlett-Packard Technology Solutions Group MVP, with a background in infrastructure engineering and enterprise deployments of SharePoint Products and Technologies.
VisualSP is inviting all interested parties to this informative live event to find out "What's in it for me?". The company develops contextual, on-demand SharePoint training and help system for on-premises versions, starting with SharePoint 2007. Recently, VisualSP released its cloud training solution for Office 365, which provides guidance for all apps in the suite, including SharePoint Online. To learn more about the Training for Office 365 product, visit visualsp.com.
Webinar: SharePoint Server 216: What's in it for Me?
Date: 2/22/17
Time: 12:00 – 1:00 PM EST
Register: Save your seat
*****
VisualSP® has been a leader in e-learning/performance support integration with SharePoint since 2004. The company introduced its on-demand, inline Help System for SharePoint to assist end users in developing mastery over common SharePoint tasks. In 2016, VisualSP expanded its technology solutions to online Microsoft products. The company is led by Microsoft MVP and MCT Asif Rehmani. To learn more, visit http://www.visualsp.com.