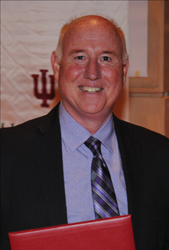 "In affiliating with Strategic Radiology, we preserve our independent radiology group practice model, which we believe to be in the best interest of the patients, physicians, and hospitals we serve."
Jeffersonville, Ind. (PRWEB) February 15, 2017
Radiology Associates, Inc., (RAI) Jeffersonville, Ind., has joined Strategic Radiology's national coalition of 26 private radiology group practices representing more than 1,400 radiologists across the United States.
"Radiology Associates is an important addition as we focus on growing our national footprint by attracting like-minded, quality-focused practices," said Arl Van Moore, Jr., MD, FACR, the chairman of Strategic Radiology. "Strategic Radiology is uniquely positioned to offer smaller practices that wish to remain independent access to the quality, subspecialty, and operational infrastructure that only a large national organization can provide."
Radiology Associates is Southern Indiana's premier radiology practice. Founded in 1969, its 25 board-certified radiologists serve patients in hospital settings in Jeffersonville, New Albany, and Corydon, Ind., as well as in Louisville and Elizabethtown, Ky. It also operates an outpatient imaging center in partnership with Baptist Floyd Hospital.
Under the leadership of President Craig S. Kamen, MD, RAI had been seeking an affiliation with a larger organization with which to share quality data and benchmarks.
"Due to the increasing complexity of health care, we knew an affiliation with a national organization was important to improving service on the ground for our clients," said Christopher J. Day, MD, MBA, partner and CFO, RAI. "In affiliating with Strategic Radiology, we preserve our independent radiology group practice model, which we believe to be in the best interest of the patients, physicians, and hospitals we serve."
About Strategic Radiology Affiliate Program
Strategic Radiology is a national coalition that seeks to achieve higher quality patient care and more cost-efficient medical imaging through shared data and clinical expertise. Affiliates have access to radiology's only AHRQ-listed Patient Safety Organization, a GPO, subspecialized night reads, Quality Forums, and other products and services.
About Radiology Associates
Radiology Associates physicians serve patients at Clark Memorial Hospital in Jefferson, Ind., Kindred Hospital in Louisville, Ky., Baptist Floyd Memorial Hospital in New Albany, Ind., Priority Radiology in New Albany, Indiana, Harrison County Hospital in Corydon, Ind., and Hardin Memorial Hospital in Elizabethtown, Ky.
Radiology groups interested in learning more about affiliating with Strategic Radiology can access additional information and connect with an SR contact through the organization's website at: http://www.strategicradiology.org.
SR Core Members:

Advanced Radiology Services; Grand Rapids, MI
Austin Radiological Association; Austin, TX
Central Illinois Radiological Associates; Peoria, IL
Charlotte Radiology; Charlotte, NC
Diversified Radiology; Denver, CO
Huron Valley Radiology; Ann Arbor, MI
Inland Imaging; Spokane, WA
Jefferson Radiology; Hartford, CT
Mountain Medical Physician Specialists; Salt Lake City, UT
Northwest Radiology; Indianapolis, IN
Quantum Radiology; Atlanta, GA
Radiant Imaging, Inc. (including The Hill Medical Corporation
and Arcadia Radiology Medical Group divisions); Pasadena, CA

Radiology Associates of North Texas; Dallas/Fort Worth, TX
Radiology Associates of South Florida; Miami, FL
Radiology Ltd.; Tucson, AZ
Southwest Diagnostic Imaging (EVDI Medical Imaging,
Scottsdale Medical Imaging, and Valley Radiologists); Phoenix, AZ

University Radiology; East Brunswick, NJ
SR Affiliate Members:

Casper Medical Imaging and Outpatient Radiology; Casper, WY
Medical Center Radiology Group; Orlando, FL
Modesto Radiologic Medical Group (MRMG); Modesto, CA
Professional Radiology, Inc.; Cincinnati, OH
Radiologic Medical Services; Iowa City, IA
Radiology Associates, P.A.; Little Rock, AR
Radiology Associates, Inc., Jeffersonville, IN
Rome Radiology Group; Rome, GA
Southeast Radiology, Ltd.; Glen Mills, PA