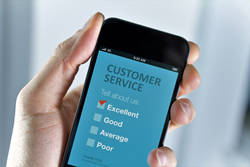 Our guest loyalty solution ties together our client's marketing programs and our own takeout solutions and places the control of localized campaigns back into the hands of the operator, and not the technology provider, David Schofield, CEO of RRT.
San Diego, CA (PRWEB) February 15, 2017
Restaurant Revolution Technologies, Inc. (RRT), the leader in off-premise order management technology, is pleased to report that the company's innovative restaurant guest loyalty platform, implemented with several national brand chains, has led to significant increases in guest return visits, engagement, number of guest transactions and incremental revenues for chains.
Currently, RRT's loyalty program supports in excess of 11,000,000 consumers in less than two years of implementation. During 2016 alone, RRT's Loyalty platform handled in excess of 7,500,000 transactions, realizing an increase in the number of transactions in every month throughout the year.
The guest loyalty program, part of RRT's suite of technology-based order management solutions, provides its clients with much more flexibility and control compared to the standard pre-packaged solutions typically available within the industry. RRT's Loyalty solution offers the following unique features for restaurants:

Highly customizable business rulesets.
Dynamic rewards based on in-store pricing.
Ability to run multiple campaigns simultaneously with different business rulesets and accrue same points but with different expiration rules if needed.
Ability to customize points, campaigns and rewards per store and/or per region.
Customized customer profile, tracking attributes and marketing preferences.
Ability to merge multiple customer accounts.
Customers can electronically gift points to family and friends.
Fully automated Point-of-Sale integration to accrue points and apply reward redemptions directly on customer check.
Customized point accrual and redemption rules.
Automated conversion rules, expiration rules and forced-redemptions to points and rewards liability levels in check.
Unique accrual and redemption rules by day of week and day part, if desired.
Custom-branded customer self-service website.
Inclusion and exclusion of certain items or item categories from redemption and accrual.
Birthday, anniversary and other date based campaigns triggers.
Administrative points adjustment capabilities for a variety of reasons; goodwill, customer service recovery, etc.
Fully visible customer points accrual and redemption history.
Create campaigns with little to no lead time for promotion.
Integrate non-loyalty programs for a more complete ROI.
"Guest loyalty has increasingly become more important for restaurants to optimize operations and maximize profitability in the ever-changing restaurant guest experience. Yet not all loyalty programs are built equally and when implemented may often lead to mixed results inconsistent to their expectations," said David Schofield, CEO at RRT. He adds, "Our restaurant clients appreciate innovation and desire to work with partners that offer an array of solutions and services that seamlessly integrate with their operations. Specifically, our guest loyalty solution ties together our client's marketing programs and our own takeout solutions and places the control of localized campaigns back into the hands of the operator, and not the technology provider. As such, our guest loyalty platform creates a more comprehensive and flexible program for the restaurant operator and a better experience for their guests. That continues to be a big differentiator and win for us, and reinforces our 'Beyond Takeout' positioning within the restaurant industry. Guest loyalty programs should not be managed independently, but as a part of the whole off-premise marketing operation."
About Restaurant Revolution Technologies
Restaurant Revolution Technologies, Inc. (RRT) provides popular restaurant chains nationwide easy-to-implement phone, online and mobile takeout, order management, customer loyalty and catering solutions that enable restaurant operators to offer their takeout customers a consistently professional and delightful ordering experience where the customer rarely waits on hold, speaks to a friendly and knowledgeable menu-certified virtual waiter, and can be confident that the order is accurate. It's what we refer to as going "Beyond Takeout." The turnkey, patented takeout order management software system provides a positive ROI by reducing operational costs, while increasing the number of orders and improving profits by leveraging the feature rich call center, online and mobile ordering platforms all integrated with top POS systems that service a majority of restaurant's nationally. Visit us online at: http://www.rrtusa.com