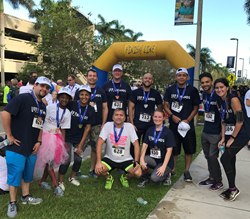 Since 2012, Uniform Advantage has contributed more than $11,050 to I Care I Cure to help make a difference in the lives of children with cancer.
Fort Lauderdale, FL (PRWEB) February 15, 2017
Uniform Advantage (UA), a multi-channel retailer of uniforms for healthcare and hospitality industries participated as sponsors in the I Care I Cure 5K Run on the 12th of February. This was the 10th anniversary of the I Care I Cure 5K Run and the event is a major contributor of I Care I Cure's ability to have funded more than $1.5 million in research projects.
This is UA's fifth year as one of the I Care I Cure Childhood Cancer Foundation's sponsors. Since 2012, Uniform Advantage has been a sponsor of I Care I Cure, contributing more than $11,050 to the organization to help make a difference in the lives of children with cancer.
"Uniform Advantage is committed to supporting philanthropic organizations that are aligned with our mission and we took great pleasure in participating in this past weekend's I Care I Cure 5K. We provide high quality apparel to the medical industry and to the researchers that are discovering less toxic treatments for childhood cancer. We are honored to be affiliated with this outstanding foundation and look forward to participating in years to come," said UA's Chief Human Resources Officer, Corey Heller.
I Care I Cure is based out of Davie in South Florida and was founded by Beth and Brad Besner, in honor of their son, Ian Besner who was diagnosed with T-Cell Acute Lymphoblastic Leukemia (ALL) just shy of his 11th birthday. After four months of intensive and excruciating chemotherapy, Ian unfortunately passed away. The Besners established the I Care I Cure foundation after their devastating loss to honor their son's life and help others by raising awareness of targeted therapies and milder cures to childhood cancer that would be easier for children to endure.
Being a uniforms and medical scrubs supplier in the healthcare industry, UA understands and supports the Besners and their foundation's mission to raise awareness of the growing need for gentler, more tolerable treatments for children with this life-altering disease. Alongside of participating in these events, Uniform Advantage designs scrub tops specifically for the I Care I Cure Foundation, donating $1 to the organization for each scrub top sold. More than 15,000 children under the age of 21 are diagnosed with cancer every year within the United States. Join UA in supporting the fight against childhood cancer at uniformadvantage.com and to learn more about I Care I Cure, please visit http://www.icareicure.org.
About Uniform Advantage
Uniform Advantage has represented style, quality and, above all, customer satisfaction for more than 30 years. As the first division of UA Brands, the chain was launched with a single South Florida store in 1985. Today, the company operates 29 retail locations in key markets across the U.S.; e-commerce and print catalog divisions; plus, designs and manufactures its own proprietary healthcare apparel lines. The company's corporate office is based in Fort Lauderdale, Florida with a distribution center near Atlanta, Georgia. Learn more at http://www.UniformAdvantage.com or by calling 800-283-8708.