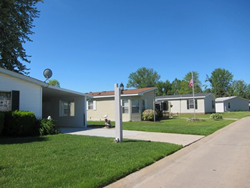 "Due to a time of the essence closing requirement, we needed to fund this transaction in 12 business days."
Fair Haven, MI (PRWEB) February 28, 2017
Knighthead Funding, LLC ("Knighthead"), the Greenwich, CT-based real estate finance company, announced that it has provided a $9.5 Million first mortgage acquisition bridge loan secured by a 1,358-pad mobile home park located in Fair Haven, MI.
The property, called Anchor Bay Mobile Home Park, is situated on approximately 273 acres located at 10470 Dixie Highway. It is currently comprised of two separate mobile home communities which offer approximately 55% single-wide pads and 45% double-wide pads. Amenities include two all brick clubhouses as well as a pool with a sundeck and a large playground.
The acquisition loan was structured with a 27-month term, a LIBOR-based floating interest rate, and interest only payments. Commenting on the challenges of financing this project, Jonathan Daniel, Principal at Knighthead, said, "Due to a time of the essence closing requirement, we needed to fund this transaction in 12 business days." Daniel added. "Since the borrower in this transaction is experienced with this asset class, we were able to get this done and give the borrower the ability to consolidate two phases of the park into one, increase occupancy toward stabilization, and thereby enhance the property value."
The borrower's plans to consolidate the two phases will involve physically moving some homes. Additional planned renovations include improvements to the infrastructure and the roads.
The property owner is an affiliate of The Crest Group, a Port Jefferson Station, NY-based real estate investment and development firm with substantial experience owning mobile home communities. The firm is coming off its 2016 sale of a portfolio of 11 mobile home communities in Michigan and two in Alabama containing a total of approximately 7,253 pads.
Enrico Scarda, President and Founder of The Crest Group, added "After having been let down by another lender, we started working with Knighthead at a late stage in the transaction. Not only did they do what they said they were going to do, but they met our deadline to close in 12 business days without missing a beat!"
About Knighthead Funding, LLC
Knighthead is a real estate finance company specializing in bridge loans and other alternative debt financing to meet capital needs in a variety of unique and special situations secured by a broad range of real estate assets. Since 2013, Knighthead has earned an exceptional reputation for funding complex and situational real estate transactions in a timely manner with flexibility and certainty of execution. Currently, Knighthead is originating loans and investments for its 2nd discretionary real estate debt fund.