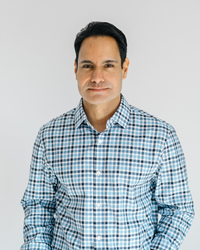 "Neil's breadth of experience in growing startups and mid-size software companies will be an invaluable asset as we innovate and modernize the way developers, retailers and brands approach commerce," said Sara Hicks, co-founder & CEO, Reaction Commerce
SANTA MONICA, CA (PRWEB) February 15, 2017
Reaction Commerce, the first completely open and real-time commerce platform for modern retailers, today announced that Neil Patil has been named Chief Operating Officer. Neil will report directly to Sara Hicks, co-founder and CEO of Reaction. As COO, Neil will work closely with Sara to oversee the company's day-to-day operations and assume responsibility for the sales, marketing, client success, product management and business development teams.
"Neil is a tech industry veteran who, like Reaction Commerce, holds quality and collaboration in the highest regard," said Sara. "Neil's breadth of experience in growing startups and mid-size software companies will be an invaluable asset as we innovate and modernize the way developers, retailers and brands approach commerce."
With an extensive background in retail and ecommerce, Neil brings more than 20 years of leadership experience in all areas of management, including sales, product management, marketing, customer lifecycle optimization, and organizational planning and scaling. Prior to joining Reaction, Neil was president of Fluid's software group, where he led overall strategy, operations and development of the company's software products. He was responsible for managing and growing the company's overall SaaS business of digital retail solutions, which resulted in exponential subscription revenue and customer base growth. He also led the creation of the world's first artificial intelligence-based platform (Fluid XPS - Expert Personal Shopper) for brands to communicate with and present personalized content to consumers. Fluid XPS was recently acquired by IBM. Before Fluid, Neil held numerous top marketing and product strategy roles at public and private companies, including Brio Software, Activant Solutions (merged with Epicor), Oracle and Overtone (acquired by Kana, now Verint).
"Retailers and brands are saddled with ecommerce platforms that were built before the iPhone and Facebook," said Neil. "That's why I jumped at the opportunity to join Reaction Commerce. I'm looking forward to helping our customers realize what they've been chasing after: a modern, open platform capable of easing daily operations, achieving real-time performance and delivering unique personalization experiences."
About Reaction Commerce
Reaction Commerce is a modern and open commerce platform built for the scale and simplicity required by today's business owners, designers, and developers. Reaction is the first intelligent and easily customizable cloud solution to provide real-time merchandising, pricing and promotions, and live monitoring of conversions. The full-stack platform is internationalized and localized, architected for shops and marketplaces, and is the largest JavaScript commerce project on GitHub, with developer interest growing more than 232 percent year over year. Their managed cloud solution has now seen over 14,000 signups. Reaction Commerce is headquartered in Santa Monica, California. For more information, visit reactioncommerce.com or email hello(at)reactioncommerce(dot)com.