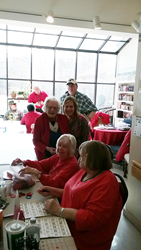 Asheville, NC (PRWEB) February 15, 2017
This Valentines Day, Aeroflow Healthcare employees joined the residents of Marjorie McCune Memorial Center for a few rounds of Bingo. The event lasted into the afternoon, with residents and Aeroflow employees enjoying games and prizes.
Aeroflow holds serving others as a top priority, with monthly events and fundraisers to benefit the community. This is the second year that Aeroflow employees have volunteered at the Memorial Center, and the group plans to continue their visits in the years to come.
"Aeroflow employees went to the Marjorie McCune Memorial Center to help residents play Bingo and provided special Valentine's Day prizes for all the winners," says Director of Accounting Ashlie Groff. "It was great to see our friends at the Center again!"
The Marjorie McCune Memorial Center is an assisted living and independent adult care facility in Black Mountain, NC. The care center is owned and operated by the Lions of Western North Carolina.
Aeroflow Healthcare was founded Asheville, NC in 2001 as a home oxygen provider, and has since grown to become one of the leading durable medical equipment providers nationwide. Aeroflow is an accredited Medicare and Medicaid provider and accepts most commercial insurances.
If you have interest in Aeroflow Healthcare's services, you can reach them by calling (888) 345-1780 or by visiting http://www.aeroflowinc.com.