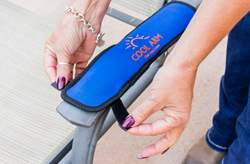 Since putting them on the chair arms, there is no longer a problem with burning my arms. Many guests have asked about them too!
Nashville, TN (PRWEB) February 15, 2017
Cool-Arm, the revolutionary new arm chair covers that keep outdoor arm rests cool in extremely hot temperatures, is live on Kickstarter and raising funds to bring the project to life.
In the sweltering hot summer months, outdoor furniture can reach temperatures that can exceed 120 degrees. Its intended use is for any type of chair arm that is exposed to the sun causing it to heat to excessive temperatures. In such situations, skin may be exposed to hot arm rests resulting in discomfort or burn.
"My business partner and I came up with the idea for this practical product while lounging at the pool. Each time we placed our arms on the lounge chair arm it was hot and caused discomfort to our skin," says owner Rebecca Parker on the inspiration behind the product. "The design for Cool-Arm suddenly came to us on one such occasion.
The Cool-Arm is made of neoprene with hook and loop fastener(s) that will hold the chair arm cover in place on most chair arms. Primary research consisted of several field tests. Cool-Arm was tested in different weather conditions and for durability. In each test, the chair arms exceeded 120 degrees before attaching the Cool-Arm. When the Cool-Arm was attached to the chair arm, immediate results were identified. Arms rested comfortably on the Cool-Arm, with no extreme heat emitting through the neoprene to the skin.
Cool-Arm will be packaged in sets of 2, and in a variety of colors. Cool-Arm can be used on any outdoor chairs whether sitting by the pool, at the beach, outdoor furniture at the lake, tailgating, boating, or just out for a day at the park. Most outdoor dining sets are on decks and patios in direct sun which would be a great place for the Cool-Arm.
The product has already proven to be a hit with consumers. "I was going to remove all of the nice deck furniture on the my houseboat because it got too hot. After Donna told me about Cool-Arm, I purchased a dozen sets," says customer Tina Peyton. "Since putting them on the chair arms, there is no longer a problem with burning my arms. Many guests have asked about them too!"
Cool-Arm is currently live and available to support on Kickstarter: http://kck.st/2kNHUmo
About Cool-Arm
There are two owners who bring different experience, skills, and strengths to this new venture.  Owner Donna, will bring 25+ years of experience in property management and accounting.  Donna enjoys riding her motorcycle, crafting, and spending time with her granddaughter. Owner Becky, is a retired IT professional and will be performing the day to day business responsibilities. Becky enjoys crafting, boating, and reading.  The company will also bring Sales Manager, Keith, who has 30 years of experience in sales and marketing.   He has also been a business owner for 25 years. Keith enjoys hunting, fishing, and boating.  
For more information on Cool-Arm please visit http://www.cool-arm.com
###