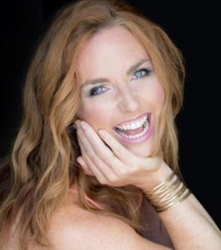 I cannot help but feel empowered each and every time I'm around Renee, and I'm sure the kids will feel the same, says Alicia Ellingsworth, farm to institution manager at KC Healthy Kids. "She has a great way of connecting with the kids."
Kansas City, Mo (PRWEB) February 17, 2017
Chef Renee Kelly, chef/owner of Harvest and Bravo "Top Chef" alumni, will emcee the I am Here Awards on March 2. She will also lead a breakout session on local food in schools.
Harvest is a farm to table restaurant and a 24 Carrot Gold partner of KC Healthy Kids. Carrot Gold is a certification for food service establishments that purchase local ingredients, use sustainable kitchen practices and offer healthy menu items.
Kelly has surrounded Harvest, a 100-year-old castle, with berry gardens. And she regularly takes her kitchen staff to visit many farms.
She appears on television shows to build awareness about local seasonal foods and the importance of healthy eating. Kelly also has appeared on Bravo's Top Chef, The Moth 2016 and has contributed to the Kansas City Star's food blog, Chow Town.
The Champions for Health Youth Summit is set for March 2 at the Kansas City Convention Center in KCMO. There, more than 200 kids will learn to speak out for healthier food in schools, walkable communities, urban farms, gardens and more.
Sponsorships are still available. Get details.
The public is invited to the I Am Here Awards, where winners of KC Healthy Kids' photo contest will receive checks for $1,000. Six classrooms will take the stage to tell us about their own communities and the changes they want to make there. One group will take home an additional $1,500 grand prize.
March 2, 2017
Champions for Health
KC Healthy Kids' Youth Summit: 9:00 a.m. to 3:00 p.m.
I Am Here Awards luncheon: 11:30 a.m. to 1:00 p.m.
Kansas City Convention Center
301 W 13th St, Kansas City, Mo 64105
Learn more about KC Healthy Kids' youth summit.
###
About KC Healthy Kids
KC Healthy Kids rallies the people in our communities to improve access to affordable fresh food and safe places to walk and play. When our neighborhoods support healthy habits, we are less likely to suffer from obesity, which is linked to Type 2 diabetes, heart disease, and poor mental health. To make a lasting impact, we shape policies that improve our food system and physical surroundings and, ultimately, the places where we live, work, learn, and play.
For more on KC Healthy Kids, visit http://www.kchealthykids.org.