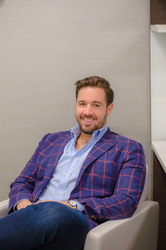 Metuchen, NJ (PRWEB) February 16, 2017
Momentum Solar, one of the fastest growing privately-owned solar companies in the nation, is pleased to announce that CEO Arthur Souritzidis has been selected by Forbes as one of their "30 Under 30 Energy" entrepreneurs. According to Forbes, Arthur stood out as one of "The Best Minds Planning How to Power Our Country" at the impressive age of 28.
The announcement of this prestigious list comes after the year that Momentum Solar was named on Inc. 5000's list of fastest growing private companies in the nation and one of Solar Power World's Top 500 North American Solar Contractors.
"I am honored to have been named on this list among fellow energy professionals," said Arthur. "This is an exciting accolade for me to achieve at a time when solar energy shows no signs of slowing down. I look forward to a busy and successful year for our business and teaching others about sustainability."
Arthur joined Momentum Solar in 2010 after graduating college that same year. As an undergrad, he studied Finance in preparation for a career on Wall Street without anticipating the impending recession. He then identified solar as one of the industries showing economic growth amidst the decline, and ended up working alongside Momentum Solar Founder and President, Cameron Christensen. Arthur's knowledge and vision helped scale the business for success, and the company ended up quadrupling their revenue in just a few months.
Momentum Solar (http://momentumsolar.com) is now a strong competitor in the solar installation field, and Forbes has taken notice. According to their website, "30 Under 30" is literally harder to get into than Stanford or Harvard — the acceptance rate averages less than 4%. The judges are prestigious "legends of their field" including two previous 30 Under 30 winners, and T. Boone Pickens, a legendary business magnate specializing in energy for decades.
About Momentum Solar
Momentum Solar, founded in 2009, is a top solar contractor and Inc. 5000 fastest growing private company that employs over 450 people nationwide. The company is committed to making solar panels affordable, providing savings for their clients, and helping the environment. Their team of in-house professionals has an extensive wealth of knowledge in designing customized solar power systems for both residential and commercial properties. Momentum Solar manages the entire customer life cycle from the sale to design, engineering, permitting, installation and activation of the system to make the process simple for homeowners and business owners.