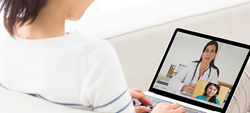 InDemand believes the Healthcare industry needs a no cost, "industry-neutral" solution to integrate VRI with telehealth encounters.
Seattle, WA (PRWEB) February 16, 2017
InDemand Interpreting, a technology-enabled language services performance improvement company and a leading video remote interpreting ("VRI") provider within Healthcare, is pleased to introduce InDemand Clarity Connect. InDemand Clarity Connect enables healthcare organizations and telehealth application providers to seamlessly add live, medically qualified interpreters into telehealth sessions on demand. InDemand is the first VRI provider to integrate its VRI service with the industry leading VidyoR videoconferencing platform, making it possible for telehealth programs to better serve the needs of limited English proficient ("LEP") and Deaf patients.
In addition to delivering immediate access to a medically qualified interpreter, InDemand Clarity Connect enables better communication between patients and clinicians using high definition, crystal clear video and sound. Healthcare organizations as well as providers of custom applications that utilize the Vidyo videoconferencing platform can now implement telehealth initiatives with the InDemand Clarity Connect Widget or the Application Programing Interface ("API"). InDemand Clarity Connect also offers real-time analytics that provide data essential to effectively track and manage language access requirements.
"InDemand believes the Healthcare industry needs a no cost, "industry-neutral" solution to integrate VRI with telehealth encounters," said InDemand Interpreting's Chairman and CEO Cecil Kost. "The Company's novel interoperability approach adds considerable value to any telehealth platform powered by the Vidyo videoconferencing backbone. This development is yet another way that InDemand is becoming the de facto industry standard for VRI."
InDemand Interpreting connects healthcare professionals to medically trained and certified interpreters 24 hours a day, seven days a week, in more than 200 languages, including American Sign Language (ASL) through a live, high definition web-based video conference. For more information about the new InDemand Clarity-Connect please contact (206) 489-2706 or visit https://www.indemandinterpreting.com/solutions/telehealth-clarity-connect/
About InDemand Interpreting
InDemand Interpreting was founded in 2007 with the vision of ensuring that every patient receives the highest quality healthcare, regardless of language, cultural background or disability. By delivering the most experienced medical interpreters and highest quality video technology InDemand Interpreting provides doctors, nurses and clinicians the language access they need to provide the best possible care. Visit InDemand at http://www.indemandinterpreting.com