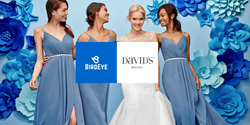 David's Bridal was able to significantly boost customer review volume, overall star rating and net promoter scores.
Sunnyvale, CA (PRWEB) February 17, 2017
For America's largest bridal retailer, customer acquisition and retention is only possible when all locations deliver consistently outstanding experiences to every customer. That's why David's Bridal hardwires decisions around customer feedback using real-time brand monitoring and business insights, all in one platform.
David's Bridal has partnered with customer experience and business reputation leader BirdEye to boost customer satisfaction and enhance overall brand reputation. BirdEye empowers David's Bridal with the ability to engage with customers in real-time and dive beneath feedback for actionable insights at both an enterprise and store level.
With more than 300 locations across the United States, David's Bridal was founded on the ideal that every woman deserves to have the dress of her dreams regardless of her style preference, shape, size or budget. They also know that when shopping for her wedding dress a bride is not only looking for a gown that reflects her individual sense of style but that also tells her personal story while showcasing her unique, special qualities.
In an effort to offer the best experience to each individual bride, David's Bridal felt it was essential to understand their customers' experiences at every step of their journey and take appropriate action to refine operations on a real-time, consistent basis. Seeking a way to hear all feedback for all locations, decipher root cause of positive and negative sentiment, and measure success of data-driven improvements, David's Bridal selected BirdEye for its comprehensive solution.
After a 3 month pilot of 3 districts, David's Bridal was able to significantly boost customer review volume, overall star rating and net promoter scores. By collecting more feedback, David's Bridal was able to develop a deeper understanding of their customers' wants and needs, and leverage these insights to rapidly improve store operations.
Due to the overwhelming success of the pilot, David's Bridal decided to roll out BirdEye across its 300+ locations in North America, Canada and the UK.
"Brand reputation and customer satisfaction directly affects the success of our business, so we're very excited to partner with BirdEye to ensure all of our customers are receiving the 'once in a lifetime' experience that they deserve," explained Holly Carroll, Senior Director of Customer Service for David's Bridal.
"The modern bride is digitally connected and social media savvy, meaning even one poor experience can be shared to thousands of people with the tap of a button," said Neeraj Gupta, COO at BirdEye. "We're thrilled to help David's Bridal use real-time customer engagement to further their mission to provide outstanding experiences to every customer."
About BirdEye:
BirdEye is a SaaS platform that reimagines the way customer feedback is used to acquire and retain connected customers by closing the loop between reputation marketing and customer experience. The BirdEye platform enables businesses to get new reviews and captures existing customer sentiment from review sites, social media, Net Promoter Scores, and support cases in real-time. BirdEye converts all feedback into actionable insights so businesses can engage in every step of the customer journey, establish a positive online presence, and benchmark performance across locations and against competitors. In today's reputation economy, BirdEye provides the eyes, ears and algorithms necessary to create a standout customer experience that pleases a consumer society reliant on instant gratification. BirdEye platform is trusted by 15,000+ businesses and prominent F1000 enterprises. BirdEye was founded in 2012 by Google, Yahoo, and Amazon alumni and backed by Silicon Valley's who who including Trinity Ventures, Salesforce founder Marc Benioff and Yahoo co-founder Jerry Yang.
About David's Bridal:
With more than 60 years of experience dressing women for all of life's special occasions, David's Bridal is built on the ideal that every woman deserves to have the wedding dress of her dreams regardless of her style preference, shape, size or budget. We believe in inclusivity, authenticity and empowerment and it is our mission to help every woman find the bridal gown that will allow her to be the best, most genuine version of herself on her wedding day. David's Bridal is dedicated to helping each bride-to-be find her perfect dress with the assistance of online planning tools, knowledgeable stylists, and expert seamstresses who will guide her through her entire dress buying journey. With more than 300 stores located across the US, Canada, UK, Puerto Rico and a franchise location opening in Mexico City, we offer the convenience of one-stop shopping for the bride and her entire bridal party. To learn more about David's Bridal, visit http://www.davidsbridal.com and connect on social media through Pinterest, Instagram, SnapChat, Facebook and Twitter.