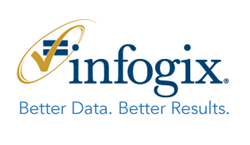 With data moving from countless sources and flowing through many business functions, clients face extraordinary data governance challenges
Naperville, IL (PRWEB) February 16, 2017
Infogix, Inc., a data and analytics software provider, has acquired Data3Sixty, the leading cloud-based data governance provider. The terms of the transaction were not disclosed.
Businesses are striving for improved transparency into their data, in many cases turning to governance and business driven solutions to gain knowledge, value and visibility. Data3Sixty streamlines and socializes business impacting concepts around data. By taking a user-friendly approach, Data3Sixty helps enterprises define data, access expertise, and understand the usage and impact around one of a company's more important assets. The end-result provides a holistic view of data from both a business and technical perspective while also ensuring the appropriate data access controls are in place.
Data3Sixty's streamlined approach ensures quick time-to-market by providing a cloud-based deployment with a low level of internal IT dependencies. Data3Sixty's intuitive platform provides "day one" value by automatically connecting to value-add content sources and making that information immediately available to end-users. Data3Sixty provides a unique ability to synthesize and visualize information about data in a manner which is easy to understand, making the platform a true differentiator in the data governance marketplace.
The combination of Infogix's automated data controls and Data3Sixty's business-focused data stewardship and metadata management solutions will empower business users to consume trustworthy data. Infogix's data controls monitor, measure and analyze the accuracy, consistency and reliability of data at rest and in-motion. Together, the offering will enable businesses to not only report on data lineage and governance metrics, but to continuously improve them.
"With data moving from countless sources and flowing through many business functions, clients face extraordinary data governance challenges," said Sumit Nijhawan, CEO and president of Infogix. "By marrying these two organizations, our customers will now have the ability to improve the accuracy of their business data and further engage the business in instituting data governance. Combined with 35 years of proven data integrity expertise, we see Data3Sixty as a complementary solution in driving continuous data improvement for the business to make faster and better business decisions."
"Today's enterprises face increased global competition, rising client expectations, tightening profit margins and increased regulatory demands. Data3Sixty's solution was designed with the sole purpose of enabling an organization to be more efficient with their knowledge and use of data," said Jeff Shortis, CEO of Data3Sixty. "By combining Infogix and Data3Sixty, we are now able to provide a deeper set of capabilities across the data control and data governance spectrum, filling a void that exists in the marketplace. Our clients will be better equipped to govern their data and take control of their business processes while also reducing costs."
Infogix was acquired in 2016 by Thoma Bravo, LLC, a leading private equity investment firm. Infogix's acquisition of Data3Sixty further establishes itself as an industry leader with a full complement of end-to-end data governance, data integrity and analytics solutions.
"Since our acquisition, Infogix has continued to solidify itself as the preeminent player in data and analytics solutions for enterprise customers across healthcare, financial services, media and communications, insurance and other key verticals," said A.J. Rohde, a partner at Thoma Bravo. "We are extremely happy that Infogix continues to transform and expand with relevant solutions that meet the needs of their clients and the industry."
To learn more about Infogix, visit http://www.infogix.com or @infogix.
About Infogix, Inc.
Infogix helps solve business challenges by analyzing data as it moves through complex business environments to improve the customer experience, corporate profitability and operational efficiency. The Infogix Enterprise Data Analysis Platform improves data quality, ensures effective transaction monitoring, provides balancing and reconciliation, identifies and predicts fraud and customer behavior. Infogix provides best-in-class solutions that seamlessly integrate into operations and allow clients to manage highly complex, data intensive business environments. By analyzing and monitoring 100 percent of data in real-time or in batch, Infogix is able to provide proactive and actionable intelligence to manage operational workflows and steps. To learn more visit http://www.infogix.com or @Infogix.
About Thoma Bravo
Thoma Bravo is a leading private equity firm focused on the software and technology-enabled services sectors. With a series of funds representing more than $17 billion in capital commitments, Thoma Bravo partners with a company's management team to implement operating best practices, invest in growth initiatives and make accretive acquisitions intended to accelerate revenue and earnings, with the goal of increasing the value of the business. Representative past and present portfolio companies include industry leaders such as Blue Coat Systems, Deltek, Digital Insight, Global Healthcare Exchange, Hyland Software, PowerPlan, Riverbed, SolarWinds, SonicWall, Sparta Systems and TravelClick. The firm has offices in San Francisco and Chicago. For more information, visit http://www.thomabravo.com.