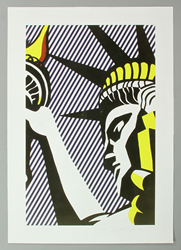 Beverly, Massachusetts (PRWEB) February 17, 2017
Kaminski Auctions' February 26, 2017 Estate Auction features Modern art from the collection of Michael Burrows of Palm Beach, Florida. A prominent real estate developer in the Palm Beach and South Florida area Mr. Burrow's collection of modern art includes works by Robert Natkin, Gustavo Rosa, Jose Maria Bermejo, Peter Saari, Robert Swain, a sculpture by Robert Helsmoortel and bronzes by British artist Jonathan Kenworthy, and Irishman Rowan Gillespie.
The Robert Natkin (American, 1930-2010) in the collection is an abstract acrylic on paper which is part of the "Apollo" series. It measure 26 inches high by 36 inches wide and the lot includes the catalog of Natkin's exhibition at the Andre Emmerich Gallery in New York City. It is estimated at $8,000-$12,000.
A Gustavo Rosa (Brazilian, 1946-2013) oil on canvas titled "Father John," measures 47 inches high by 43 inches wide framed and was purchased from the Kouros Gallery in New York City and is valued at $6,000-$9,000.
There is also an aluminum and acrylic modern sculpture by the Belgian artist Robert Helsmoortel (Belgian, 1922-2007). The lot also includes a catalog signed by the artist.
Additional items of interest in the auction includes an "I Love Liberty" silkscreen print by Roy Lichtenstein (American, 1923-1997), signed by the artist, numbered AP 33/73 and dated 1982 in pencil lower right. Included in the lot is the Lichtenstein Catalog Raisonné as Cortlett 192, stating, "this print was executed in conjunction with the I Love Liberty celebration, taped on February 22, 1982 in Los Angeles, CA and was broadcast March 21, 1982." Valued at $5,000-$6,000, it is from a Massachusetts estate.
For Andy Warhol collectors there is a Andy Warhol (American, 1928-1987), autographed Campbells beef soup can. This can was autographed at the Italian Fashion store Fiorucci in Los Angeles, CA in September 1978 when Warhol did an in-store signing while in town for an exhibition at the Ace Gallery.
There is also an interesting collection of twelve glass photographic negative plates of naturalist John Muir and Yosemite taken by Muir depicting Half Dome and the surrounding Yosemite National Park, as well as scenes from his life in Scotland. The lot is conservatively estimated at $1,000-$2,000.
Asian entries in the sale include a large and rare Rose Medallion vase circa mid-19th century standing 34 ½ inches high and a Chinese Lama gilt bronze figure depicting the Lama sitting cross-legged atop a lotus blossom.
Russian Judaica silver, estate jewelry, furniture and continental decorative items round out this exciting auction that will be held at the Kaminski Auction gallery 117 Elliott Street (RT. 62), Beverly, Massachusetts on Sunday, February 26th, starting at 10:00 am EST. Preview hours are Wednesday through Saturday, February 22nd - 25th, 10:00pm – 5:00pm and day of sale beginning at 8:00am. Preview is open all day while auction is live. For more information go to http://www.kaminskiauctions.com and sign up to bid with KaminskiLIVE.