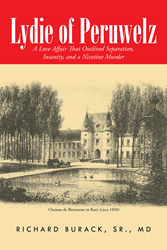 Jackson, NH (PRWEB) February 20, 2017
Love, longing, class consciousness, insanity, and death by nicotine poisoning are focal points in Dr. Richard Burack's debut novel "Lydie of Peruwelz."
Lydie Fougnies is a young, attractive, and educated woman who falls in love with a man from a family of wealthy aristocrats. After the matriarch rejects her for not being from high society, Lydie suffers a severe mental breakdown and acts irrationally.
She meets a crude count and begins grooming him to become a refined individual. What Lydie does not know is that this man is a psychopathic felon who lusts for her and plans to steal her family's fortune. Subsequent events lead to a murder and trial.
"The book is based on the murder and famous jury trial that engrossed all of Western Europe in the spring of 1851," said Dr. Burack. "A Belgian historian from the area arranged for me to have a duplicate copy of a transcript containing every word spoken during the trial."
"Lydie of Peruwelz" is a fictionalized account of historical events that warns of dangers of class-consciousness and psychopathic behavior. It also recognizes the power of love.
"Lydie of Peruwelz"
By Richard Burack, Sr., MD
ISBN: 978-1-49174-378-2 (softcover); 978-1-49174-380-5 (hardcover);
978-1-49174-379-9 (eBook)
Available on Amazon, Barnes & Noble, and iUniverse
About the author
Richard Burack earned a BA from the University of Wisconsin and a MD from Wake Forest University School of Medicine. He served as a Medical Officer in the U.S. Coast Guard in the Pacific Theater during the Korean War. Dr. Burack was appointed to the faculty at Harvard Medical School in 1960, and later practiced internal medicine before embarking on a career as a medical director for two U.S. non-pharmaceutical corporations. In 1967, Dr. Burack published "The Handbook of Prescription Drugs," alerting doctors and the public to the availability of less costly generic medications. He lives in New Hampshire with his wife, Mary. They have five children and ten grandchildren.
###
Review Copies & Interview Requests:
LAVIDGE – Phoenix
Bryan Beach
480-998-2600 x 510
bbeach(at)lavidge(dot)com
General Inquiries:
LAVIDGE – Phoenix
Kalin Batts
480-998-2600 x 524
kbatts(at)lavidge(dot)com