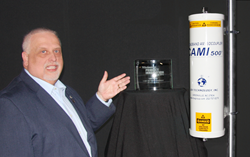 The LBA CAMI™ isocoupler family now supports any combination of RF carriers from DC to 2700 MHz or more.
GREENVILLE, NC (PRWEB) February 16, 2017
LBA Group, Inc. (LBA) announced that its hardware unit, LBA Technology, Inc., won NewBay's 2016 Product Innovation Award for both TV Technology and Radio. NewBay's Product Innovation Award, launched in 2013, recognizes excellence in manufacturing of products to serve the TV/pro video and radio/online audio industries.
LBA's CAMI™ broadband isocoupler was selected for the honors by a panel of professional users and evaluation criteria include innovation of concept and design, creative use of technology and price value. The panel also considered suitability for use in each industry category.
LBA's CAMI™ allows low power TV operators to locate to "hot" AM towers, and the new expanded line of CAMI's™ can handle TV power all the way to 40,000 watts, VHF and UHF. The product also offers a modern way to expand site options for other types of installations on "hot" AM towers for radio broadcasters. This includes microwave and STL links, FM translators, low power FM, and high power FM. The CAMI™ can be used for nearly any single coaxial line installation on an AM tower.
The LBA CAMI™ isocoupler family now supports any combination of RF carriers from DC to 2700 MHz or more, and conservative RF power levels to 40,000 watts at FM. High impedance AM isolation is achieved on any specified frequency between 530 - 1710 kHz.
"Unlike commonly used tuned isocouplers, the same broadband CAMI™ model will fit all of the supported frequencies without retuning," LBA product representative, Jerry Brown said.
This means an FM or TV operator need not change isocouplers, even if they are reallocated. This can solve major TV repack site issues.
"This feature alone could save operators thousands of dollars," Brown added.
The CAMI™ also has the advantage of passing AC or DC current to tower top amplifiers. They are resistant to weather and lightning, and easy to install. More information on the CAMI™ isocoupler family of products is available at: https://www.lbagroup.com/products/cami-am-tower-isocoupler, or contact Jerry Brown, 252-757-0279, jerry.brown(at)lbagroup(dot)com.
Keep up with LBA news and information by following the company on Facebook at: https://www.facebook.com/LBAGroup.
About LBA
LBA Group, Inc. has over 50 years of experience in providing RF asset solutions and risk management for industrial and telecommunications infrastructure assets. The company is comprised of the technology consultancy, Lawrence Behr Associates, Inc.; LBA Technology, Inc., a leading manufacturer and integrator of radio frequency systems, lightning protection, and EMC equipment for broadcast, industrial, and government users worldwide; and LBA University, Inc., providing on-site and online professional training. The companies are based in Greenville, N.C., USA.
About Newbay
NewBay is positioned at the center of the world's most dynamic industries — Music, AV/Pro Audio, Consumer Electronics/Gaming, Video & Broadcast and Education. The company connects and informs millions of constituents in these industries through award-winning content, integrated media capabilities, and high-profile network-building and informative events.