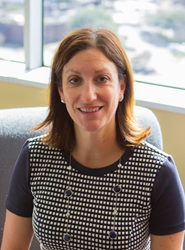 Dallas, TX (PRWEB) February 17, 2017
Pursuant, a full-service fundraising agency serving nonprofit organizations, welcomes Jennifer Bielat as senior vice president, client strategy. Bielat brings over twenty years of extensive leadership experience within the nonprofit sector. Most recently, Bielat spearheaded the brand renaissance of Easterseals.
Bielat will serve as a chief strategist for Pursuant clients, leading our client strategy teams in developing comprehensive, data-driven, omni channel campaigns rooted in relationship fundraising that span the entire donor pyramid.
"When I was exploring the opportunity to join Pursuant, I was introduced to their philosophy of implementing a 'relationship fundraising' approach driven through data insights and analytics. This data-driven relationship discipline is used not only for mid-level and major gift officers, but also digital marketing, email marketing, and direct response. I believe this will be transformational to the fundraising landscape," said Bielat. "Organizations that have the foresight to embrace this approach are going to be the organizations that sustain for the long haul. When I think about the next generation of supporters and what they expect, they are brands that make them feel like they are a known entity, brands that tell impactful stories that inspire engagement. It's a game-changer for the nonprofit industry. I'm excited to be a part of that at Pursuant."
Prior to joining Pursuant in January 2017, Bielat held the position of senior vice president, integrated marketing for Easterseals, Inc. She was responsible for overseeing Easterseals marketing and communication activities to build brand awareness, drive philanthropy, and service impact results. Jennifer's work leading the Easterseals organization in a brand renaissance brought greater clarity and relevance to the nearly 100-year-old brand. She was responsible for delivering the brand identity strategy and socializing the new brand within the 75 affiliate organization and supervised implementation of the recommendations nationwide. Jennifer helped to lay the critical, modernized foundation for the Easterseals of the 21st century.
Under her leadership, the direct response channels, digital and mail, raised over $32 million annually for the organization. The direct response programs also served as a critical pipeline for other Easterseals development areas including planned giving and major gift development.
"I'm thrilled to welcome Jennifer to Pursuant," said Pursuant CEO Trent Ricker. "Her lifelong service to a legacy organization like Easterseals speaks volumes to her commitment to our industry. By joining Pursuant, organizations that we work with will greatly benefit from her extensive experience in both development and marketing. We're excited to have her on board and look forward to the important impact she will make with our clients."
Jennifer is a results oriented executive leader with a distinguished career. Industry recognition includes 2002 Direct Marketing Association Non-Profit of the Year Award and 2006 Nonprofit Times Top Fundraiser of the Year. Ms. Bielat has served on two industry boards and is the immediate past chair of the committee for Education and Conference Development for the Direct Marketing Association Nonprofit Federation Advisory Board.
She received degrees in Business Administration and Economics from Graceland University. Jennifer is a Chicago native and lives there with her husband Paul and daughters Alexandra and Lauren.
The Pursuant Group (http://www.pursuant.com), based in Dallas, Texas, exists to inspire passionate people to change the world through great causes. We empower nonprofit leaders to deliver on their mission by more effectively connecting resources to vision. Pursuant is the only technology-enabled, data-driven, full-service fundraising firm dedicated to helping nonprofits experience fundraising success. Founded in 2001, Pursuant partners with health and human service organizations, educational institutions, athletic programs, hospitals, faith-based organizations, and churches to impact lives through intelligent data, proven strategies, and award-winning creative to grow and sustain revenue. Visit us at http://www.pursuant.com to help you achieve your fundraising goals.