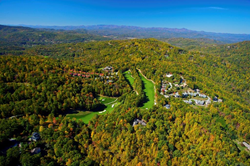 2017 Bliss Award Winner - Best Hiking Community of the Year
Asheville, North Carolina (PRWEB) February 17, 2017
One of the most requested lifestyle amenities when choosing a new neighborhood, is the desire for high quality walking and hiking trails. Everyone enjoys getting outside, especially when there's scenic beauty to revel in. Hiking strengthens the heart, it gives one energy, and improves folks wellbeing. When one walks in a forest, it deepens the connection to nature by the fresh air and crinkling leaves beneath our feet. Add to it the colors of the spring or fall foliage and this seasonal change takes a hiking experience to a whole new level. But can folks experience this in a 400 home master planned community? The answer is yes.
Champion Hills in Western North Carolina is known for year round golf but what folks might not know about is their hiking trail system in and around the stunning Tom Fazio golf course, a course consistently ranked as one of the top 10 courses in North Carolina. As one of the top North Carolina golf communities, they boast over 17 miles of hiking trails set in the Blue Ridge Mountains.
Here's a quick overview:
Laurel Run Trail - 1 mile easy walking trail
Wild Ivy/Hagen Loop - 1.6 mile moderate hike
Old Hickory/Chattooga - 2.5 mile strenuous hike
Pine Shadow Walk - .03 easy walking trail
Meadow Ridge Loop - 1.8 mile moderate hike
Sixth Tee Loop (R) - 2.3 mile strenuous hike
Bocce/Back Nine Loop (R) - 3.2 strenuous hike
Bocce/Chattooga Loop (R)- 4.5 strenuous hike
Trails marked by with an (R) are cart path golf course trails accessible Tuesday - Sunday from dawn to 8am (9am in the winter) and from 8:00pm to dusk. Cart path trails are great because some folks prefer to walk on hardtop paths. Walking early in the morning and at sunset is a time when folks are likely to see wildlife on the course. Trails conveniently connect the neighborhoods to the community's amenities.
Amenities at Champion Hills are not limited to hiking and golf. Adjacent to the golf clubhouse is the community's fitness center, tennis courts and outdoor heated swimming pool. Their lodge-style clubhouse, with floor to ceiling windows, offers three dining options: casual, alfresco and fine dining. The club has been around since the late 1980's. It is debt free and member owned. Property owners are not required to join the golf club. Membership does have benefits which include the entire vertical family line within a single golf or social membership. Parents, children and grandchildren are all included in the membership regardless of age. The Champion Hills social club membership provides access to the hiking trails, wellness amenities and dining at the clubhouse. Social club membership dues are around $300 a month. Golf dues are approximately $10,000 a year.
Residents own either town homes, villas, or single family residences nestled along the hillside. If folks are interested in building a home, homesites for sale can be found from the mid $20's to $200's. Resale homes begin in the $300's. The highest priced Champion Hills home for sale today is priced at $3.9 million. HOA fees are approximately $2,600 a year. Property owners love living here. They scored the community 95 out of 100! Reviews are found on the bottom of the Champion Hills Community Review page on Real Estate Scorecard's website.
The community's location is another important accolade Real Estate Scorecard considers. Champion Hills is only 5 minutes from one of the most affordable mountain towns, the town of Hendersonville. Main Street in downtown is lined with art galleries, scrumptious restaurants and boutique shops. Hendersonville also hosts the annual North Carolina Apple Festival.
Folks who are looking for genuine hiking trails in one of the best active adult communities in the mountains will find Champion Hills a match. Kudos to Champion Hills, the 2017 Bliss Award winner for Best Hiking Community of the Year.
If folks are exploring hiking communities in Western North Carolina, ask Real Estate Scorecard to send their top hiking picks for the area you're interested in by writing info(at)realestatescorecard(dot)com
About Real Estate Scorecard:
Real Estate Scorecard writes unbiased real estate reviews providing in-depth information about popular gated communities in Florida, Georgia, the Carolinas and Tennessee and Central America, all in an effort to help people discover where to retire in the South.
Website: http://realestatescorecard.com