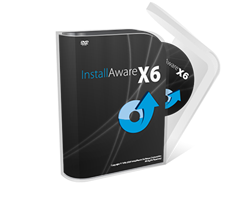 "InstallAware's Open Source Desktop Bridge is also an ideal complement to open source installers such as WiX, InnoSetup, and NSIS; all of which lack an open source (or free) Desktop Bridge for APPX creation."
San Francisco, CA (PRWEB) February 20, 2017
InstallAware Software, the technology leader in software installation, repackaging, and virtualization solutions for application producers and enterprises, announced today the launch of InstallAware X6. InstallAware is the most flexible platform for traditional and agile development teams creating Windows and Azure software installers, as well as APPX Universal Windows Platform, Microsoft App-V Virtualization, and agentless/royalty-free InstallAware Virtualization packages.
The brand new InstallAware Transformer InstallTailor MST Creator is available for the first time in the new InstallAware X6 version, giving non-developers a point-and-click way to create MST transform files for any MSI setup. Any user may run through the setup wizard screens, making choices as (s)he normally would while installing the package. Instead of installing the package, InstallAware then creates an MST transform file containing the properties, directories, and features as selected during the setup interview. A shortcut file (.LNK) is optionally created as well, instantly launching the transformed MSI with the settings in the MST transform file pre-applied. The MSI may also be published through Group Policy on an Active Directory network, of course again with its companion MST transform containing the custom settings.
The most exciting aspect of InstallAware's new Visual Studio Extensions (all versions 2003 through 2017 are supported) is the ability to create an APPX Universal Windows Platform binary directly from the InstallAware Visual Studio Extension toolbar. A single click on the APPX button on this toolbar builds the active Visual Studio solution, scans it for dependencies, and then converts the native code or .NET based EXE into an APPX package, ready for submission and monetization on the Windows Store. Single-click toolbar buttons are also available to build a Microsoft App-V Virtualization package, or to produce an MSI or EXE installer without ever leaving Visual Studio. Of course, the InstallAware project automatically handled by the Visual Studio Extension may be further edited and debugged in the InstallAware X6 IDE.
Another new feature in InstallAware X6 is support for advanced Windows Service configuration, including setting multiple failure actions to be executed during the successive failures of a service on a target system – such as restarting the service, running a custom program (with a custom command line), displaying a reboot message, and restarting the PC. This helps increase the resiliency of applications installed by InstallAware, helping them surmount unforeseen hazards encountered during real world production use.
Setup capture has also been revamped in the new PackageAware included with InstallAware X6. The brand new PackageAware remains the fastest setup capture in the industry, adding Unicode support, a new mechanism which stacks multiple filters during capture operations to eliminate capture noise (garbage files and settings unrelated to the application being installed), and providing three new filters out-of-the-box to eliminate frequent sources of capture noise, with the ability to create and stack custom filters on demand.
InstallAware X6 integrates for the first time with Microsoft Team Foundation Server 2017, while retaining compatibility with all previous TFS versions through 2010 – enabling globally distributed collaboration for release engineers. InstallAware also adds the new Microsoft SQL Server Express 2016 with Service Pack 1 runtime, and the new Visual C++ 2017 runtimes, crowning its full-stack support for the Microsoft platform, which is legendary in the industry for its unmatched response times to the changes happening in Redmond.
The Application Runtime Wizard in InstallAware X6 of course remains available for users to create their own custom application runtime installers for their private frameworks. New in the Application Runtime Wizard is support for applying one or more MST transforms during a runtime installation, including those created by the InstallAware Transformer InstallTailor, when creating frameworks based on MSI files.
InstallAware also supports the open source movement and regularly contributes code. InstallAware X6 ships with InstallAware's Open Source Desktop Bridge, containing the only open source APPX Builder library in the industry, and an example command line application consuming the library, published under the GNU Affero General Public License v3.
With InstallAware X6, all developers may cross Microsoft's Desktop Bridge toll-free, and gain access to the Universal Windows Platform Highway, opening up their applications to new markets and customers while retaining and leveraging the existing investments they have made in their software products.
InstallAware's Open Source Desktop Bridge is also an ideal complement to open source installers such as WiX, InnoSetup, and NSIS, all of which lack an open source (or free) Desktop Bridge for APPX creation.
About InstallAware Software
InstallAware Software, founded in 2003, is the leading Cloud Infrastructure Company with its laser sharp focus on bullet-proof enterprise software deployment. InstallAware has been recognized by multiple awards coming from Microsoft, SDTimes "Leader of the Software Development Industry", Visual Studio Magazine Reader's Choice, ComponentSource, WindowsITPro, among other recognition. InstallAware X6 is available in a free edition for all Visual Studio users and paid editions with prices starting at $329. For a fully functional 30 day trial and more information, visit http://www.installaware.com.
####
MEDIA CONTACT:
Jason Strathmore
InstallAware Software
336 Guerrero
San Francisco, CA 94103
415 358 4094
jase(at)installaware(dot)com
http://www.installaware.com/