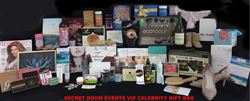 Secret Room Events is Hollywood's First Choice For Gift Lounges and Gift Bags Surrounding Major Award Shows and Private Entertainment Events
Beverly Hills CA (PRWEB) February 18, 2017
The Red Carpet Luxury Lounge benefiting NKLA - a Best Friends Animal Society initiative - will be buzzing this year as it opens its doors to Hollywood's hottest talent surrounding the award show festivities. Nominees and other celebrity talent as well as producers, directors, stylists, press and media will gain access to new and exciting products and services offered by Secret Room Events amazing array of sponsors.
Guests will be able to nibble on food and drinks provided by master chef Wolfgang Puck who will bring his uber-popular coffee line to the highly-anticipated Red Carpet Luxury Lounge. Like his food, the 100% arabica coffees are grown naturally, harvested from small estates and handpicked. Upon arrival, the talent and press will indulge in the magical transforming cappuccinos, lattes, mochaccinos and espressos crafted with organic enhancers.
The Red Carpet Luxury Lounge is proud to announce its platinum sponsor Wen Hair and Body Care by Chaz Dean. Created in 1993 by renown "hairstylist to the stars", Chaz Dean completely stopped using lathering products in his hair and went on to create gentle co-cleansing conditioners that were natural, yet effective. Since then Chaz has led the co-washing movement for decades with his line of Cleansing Conditioners and styling products that create natural, healthy, and soft hair. Wen Hair and Body Care by Chaz Dan will be offering exclusive hair services to guests at the event.
Other event highlights include a fabulous FashionOmics LIVE Lounge! featuring beauty services from Lashes by Michelle Fong – Dial M Beauty, Massage by Cecilia Alcala; Manicures,Waves, Braids & TopKnots by TONI&GUY; YouTube Make-up Artists Niki Reitano and Aly Ashford; STORM Instant Wrinkle Lift Serum applications by Cosmetic Research Laboratories; botox and gift certificates by Parfaire Medical Aesthetics; and Celebrity Gold Face Mask and decollate, neck and hand treatment by European Skin and Massage Studio.
For the first time ever, every guest that attends the Red Carpet Style Lounge will receive an all inclusive 5 night stay at one of Elite Island Resorts fabulous Caribbean properties. Select lucky nominees will also be gifted much coveted ultra exclusive 5-star vacation packages courtesy of Pacific Resort Aitutaki, Cook Islands' only member of the Small Luxury Hotels of the World collection and The Reef by CuisinArt Anguilla, also a member of Small Luxury Hotels and sister property to the CuisinArt Golf Resort & Spa.
Guests will also be introduced to and gifted new and exciting products from Attipas, Auspect Skincare International, Julie's Real Foods LLC, The Gottlieb Native Garden, Allomind, European Skin and Massage Studio, Axia Medical Solutions, Croatian National Tourist Board, SKECH, Keyano Aromatics International, Inc, Bobble Art USA, Keiichiroyuri, Pasta chips, Goodie Girl Cookies, Doery Aromatherapy, Forever In My Heart Jewelry, Vivajennz, Cavalleri, Sally Snacks Venison Jerky Dog Treats, Cosmetic Research Laboratories LLC, Catiques, Dermis RX Advanced Skin Care and Pets People Planet Connection.
Upon exiting guests will have also receive a gift bag full of goodies from Dermatologic Cosmetic Laboratories, Silc Skin, ChapStick Total Hydration Moisture + Tint, Emily Cho handbags, Brownie Brittle, Rachel Tribble, Guylian USA Inc, Sasaki Advanced Aesthetic Medical Center, Pretty Woman, NBTY Global Inc, US Organic, Leuchtturm 1917, BLK BLU NYC, Eco Tools, Taymor, Hero Nutritionals, Spoiled Naturally, Yankee Candle, Green Goo by Sierra Sage, Yazzii, Anastasia Beverly Hills, Justins, LL Bean, Eveden, Hey Lady Shoes, Texture The Magazine App, Feel Good Photos By Sasha, Trimfoot, Olde Armoury Leather, New Beauty, artnaturals, Black Stallion Winery and Imedeen Prime Renewal.
The Red Carpet Style and Beauty Lounge will benefit Best Friends Animal Society, the only national animal welfare organization focused exclusively on ending the killing of dogs and cats in America's shelters. A leader in the no-kill movement, Best Friends runs the nation's largest no-kill sanctuary for companion animals, as well as lifesaving programs in partnership with more than 1,300 rescue groups and shelters across the country. In Los Angeles, Best Friends leads the No-Kill Los Angeles (NKLA) initiative, which is focused on ending the killing of dogs and cats in city shelters by 2017, and operates two centers, the NKLA Pet Adoption Center in West L.A. and the Best Friends Pet Adoption and Spay/Neuter Center in Mission Hills. Since its founding in 1984, Best Friends has helped reduce the number of animals killed in American shelters from 17 million per year to an estimated 4 million.
About Secret Room Events: Secret Room Events is a brand and product marketing firm with niche appeal in the entertainment industry, producing exclusive swag bags, gift lounges and private events for Hollywood's most influential people.
FOR MEDIA INTERESTED IN COVERING THE EVENT: Please contact rsvp(at)secretroomevents(dot)com