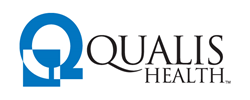 Seattle, WA (PRWEB) February 17, 2017
Qualis Health, one of the nation's leading population health management organizations, has been named a finalist in the 8th Annual DecisionHealth Platinum Awards in recognition of its innovative healthcare management programs that are positively impacting America's healthcare delivery system. Qualis Health's work is recognized across multiple award categories, highlighting four of the organization's current programs:

Emergency Room High Utilizer Program (Care Coordination award category)
Diabetes Self-Management Education and Community Partnerships (Wellness/Prevention award category)
Oral Health Integration to Promote Whole Person Care (Wellness/Prevention award category)
Choosing Wisely: Reducing Low Value Services for Medicare Beneficiaries (Physician/Clinician Engagement and Education award category)
"We are honored to be recognized for this diverse portfolio of projects," said Jonathan Sugarman, MD, MPH, President and CEO of Qualis Health. "To be acknowledged by experts in the field reinforces our commitment to improve healthcare quality through leadership and innovation."
Winners of this year's Platinum Awards will be announced May 4, 2017 in Baltimore, MD.
About the Platinum Awards
The DecisionHealth Platinum Awards program recognizes professionals and organizations who demonstrate success in the overarching healthcare continuum, honoring programs that best educate and empower patients, improve adherence and wellness, manage quality care and contain healthcare costs.
About Qualis Health
Qualis Health is one of the nation's leading population health management organizations, and a leader in improving care delivery and patient outcomes, working with clients throughout the public and private sector to advance the quality, efficiency and value of healthcare for millions of Americans every day. We deliver solutions to ensure that our partners transform the care they provide, with a focus on process improvement, care management and effective use of health information technology. For more information, visit http://www.QualisHealth.org.