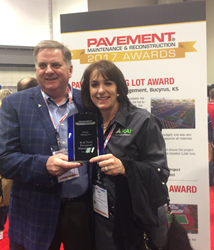 "This award confirms that our approach is working. We're truly honored," Chuck Jeffries, Managing Director, KAI Total Pavement Management
Bucyrus, KS (PRWEB) February 21, 2017
KAI Total Pavement Management announced today that it has been named Winner for Best Parking Lot Pavement Project at the 2017 National Pavement Expo awards ceremony.
The Pavement Awards are presented by AC Media, publisher of Pavement Maintenance and Reconstruction Magazine. The award was presented by Amy Schwandt, publisher, and Allan Heydorn, editor, and received by Mr. Chuck Jeffries, Managing Director of KAI Total Pavement Management.
KAI Total Pavement Management received the award for the parking improvements project at the Target store in Kalispell, MT.
"This was a capital improvement project which required a significant coordination of tasks, equipment, materials and providers to attend to a tight schedule to stay on task - and budget," says Christie Knable, KAI Vice President of Marketing.
The national parking lot management company had not one, but two customers on this project: Target Corporation, as well as EMG, their onsite management group, led by Mr. Paul Smith.
"The project's success required the coordination of talented and dedicated personnel to meet the scope's objectives," says Jeffries. "This award means a great deal to our company. We take pride in not only aligning with strong clients but also with strong vendor partners that share our values and attention to details. This award confirms that our approach is working. We're truly honored."
About: KAI Total Pavement Management is the national project management division of Kansas Asphalt, Inc. Headquartered outside of Kansas City, Kansas Asphalt has been providing parking lot and paving solutions for commercial clients since the turn of the last century and has sales and construction offices located across the country. Kansas Asphalt is a woman-owned business, certified by both the State of Kansas and the National Women's Business Owners Corporation (NWBOC).