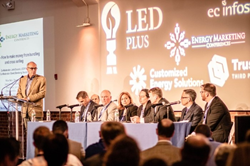 We are excited to host another phenomenal event in Houston and congratulations to all the nominees - Jack Doueck, Co-founder
Houston, Texas (PRWEB) February 19, 2017
Energy Marketing Conferences, LLC announced today the nominees for the "2016 Retail Energy Provider of the Year Award" as well as the "2016 Most Innovative Marketer Award" that will be presented at its seventh semi-annual Retail Energy Marketing Conference being held at the Houston Doubletree Hotel in Houston, Texas on March 1st, 2017. Also announced was a keynote address by Trey Griggs, Executive Vice President and Chief Commercial Officer for Calpine.
The theme of the Energy Marketing Conference will be, "Working Together to Grow Your Business" and it will feature 22 sponsors, 45 exhibitors, 50 well-known industry professionals on three interactive panels, 4 executive workshops, a networking breakfast, luncheon and reception with live music.
Back by popular demand is the EMC game of "FASTBALL": 22 companies will "Pitch" and unveil their brand new products and services to the industry in two separate sessions during the day.
More than 500 attendees from all over the country are looking forward to hearing over 50 panelists and speakers. The conference will be the largest gathering of retail energy professionals in the country.
The panels include: "How to Make Money Going Green"; "How to Make Use Branding to Build Your Business" and the CEO Round Table focusing on growth, expansion and overcoming obstacles that are in the way.
The four executive workshops are: "How to Get the Most out of the Energy Marketing Conference", "Energy storage in the Retail Portfolio", "Driving out Hidden Costs of Retail Operations" and "Expansion to Japan."
The breakfast, luncheon, breaks and cocktail reception have all been designed to allow participants to maximize their learning and networking opportunities.
The nominees for the 2016 Most Innovative Marketer Award are: Brilliant Energy, Green Mountain Energy, Just Energy, RRH Energy, and Stream Energy
The nominees for the 2016 REP of the Year Award are: Discount Power of Texas, RRH Energy, Source Power and Gas, Spark Energy, and Xoom Energy
"The nominees for the Most Innovative Marketer Award have all made tremendous strides in creating new programs, products, bundled services, and improved customer experience," said Jack Doueck, Co-Founder of Advanced Energy Capital, LED Plus and Co-Founder of Energy Marketing Conferences, LLC.
"The nominees for the REP of the Year Award are five companies that have operated so successfully in 2016 that they stand as examples for how an REP should be run," said Larry Leikin, Co-Founder of EMC and CEO of TrustedTPV.
The awards are sponsored by Hansen Technologies.
This promises to be an event that can't be missed for professionals in the retail energy space.
To register for the Energy Marketing Conference, visit: https://www.eventbrite.com/e/energy-marketing-conference-for-retailers-houston-tx-tickets-30052392515
To watch the video from the New York City Energy Marketing Conference on 9/16/17, click here: https://www.youtube.com/watch?v=fDQTi2lhXek
To watch the video from the Houston Energy Marketing Conference that took place last March, click here: https://www.youtube.com/watch?v=UaPRmzrpM3o